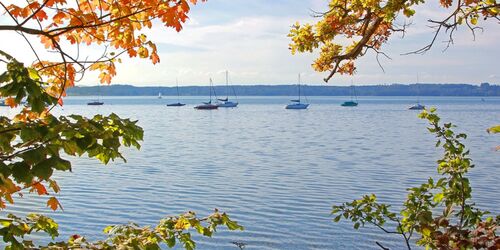 A real hidden gem near Starnberger See lake: tiny Bernried was chosen as one of Germany's most beautiful villages in 2009. Since then it seems to get a little more beautiful every year ... A visit here will give you the sense that all is right in the world – luscious green meadows, secluded paths by the lakeside and gorgeous farmhouses. The lovingly maintained flowers in the front gardens are sure to make gardening hobbyists green with envy.
Arrival
Bernried am Starnberger See
Bahnhofstraße 25
82347 Bernried am Starnberger See
Our tip: Please make sure to check your train connection and the expected capacity before you start your journey.
More destinations
Our insider's tip for railway travellers will lead you through a picturesque landscape. Find out... This hike will take you around multiple Franconian breweries, where you will also get to know the... Learn how to milk animals – the Eichenmüller family make sure that your visit is an adventure. Bruckberg is situated between the Upper Bavarian town of Moosburg an der Isar and the Lower... Take a trip to the "Sennerei Lehern" showroom and watch cheese-making experts at work as they... You can enjoy a wonderful Sunday buffet while gliding gently along the Danube, starting in Passau. This is a place where everything unites: the traditional and the modern, East and West, and the... Beer tour from Coburg to Rödental: Quench your thirst in the myriad of beer gardens and beer... Discover imposing castles and palaces in the idyllic Sinn river valley. This hike in the north-east... Get on the saddle and explore the small towns of the Pfaffenwinkel! On this tour through the...
Share article

Email Copy link
Your bookmarks