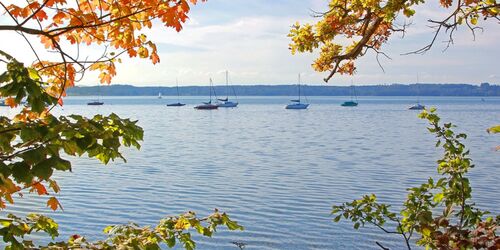 A real hidden gem near Starnberger See lake: tiny Bernried was chosen as one of Germany's most beautiful villages in 2009. Since then it seems to get a little more beautiful every year ... A visit here will give you the sense that all is right in the world – luscious green meadows, secluded paths by the lakeside and gorgeous farmhouses. The lovingly maintained flowers in the front gardens are sure to make gardening hobbyists green with envy.
Arrival
Bernried am Starnberger See
Bahnhofstraße 25
82347 Bernried am Starnberger See
Our tip: Please make sure to check your train connection and the expected capacity before you start your journey.
More destinations
Plassenburg castle is nearly 900 years old and was once the centre of power of the House of... The artisans' yard is a collection of small workshops that lets visitors see a living tradition of... Garmisch-Partenkirchen is the perfect place for anyone who wants to rise above it all, but in a... On this bike tour you will get high up. You cycle through fields, meadows, past small farms, along... Examples of nice and traditional beer gardens include the one from the Paulaner brewery on... Due to its location right by the limes, the little Middle Franconian town of Weißenburg became a... Here, your healthy get-away doesn't end after class. Take a trip to the "Sennerei Lehern" showroom and watch cheese-making experts at work as they... The yoga retreat house "Yoga Vidya Ashram Allgäu" is situated at an altitude of 960 metres and... Possibly the prettiest park in the city
Share article

Email Copy link