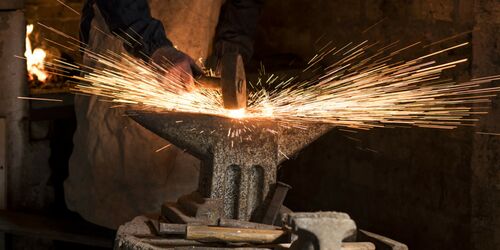 Dive into the world of blacksmithing at the Mühlgassn-Schmiede forge in Kissing and learn how to use fire to bend hard metal to your will from the professionals. You can take what you made on the blacksmithing course, as well as a certificate, home with you.
News, prices and courses are available here.
Arrival
Blacksmithing course
Augsburger Straße 15
86438 Kissing
Our tip: Please make sure to check your train connection and the expected capacity before you start your journey.
More destinations
Culture beneath Nuremberg Castle The Roman museum was built on the foundations of Kastell Boiotro castle. Films and light... The name, "Café Zafran", in Bamberg is slightly confusing as neither coffee nor cake is served... Visit the Costume Museum in Holzhausen and find out what a real Bavarian costume ("Tracht") looks... The highest restaurant in the Middle Franconian metropolis. Why not try out something new, like football billiards and be a human cue, or play crazy golf in... Find out about long-lost crafts and technology: it's like taking a trip with Jules Verne. The small cinemas have a very special ambience The Air Museum in Engelsburg castle in Amberg features air that you can hear, see and touch, spread... For thirsty folk: would you like to know the exact reason why your favourite beer is so tasty? If...
Share article

Email Copy link
Your bookmarks