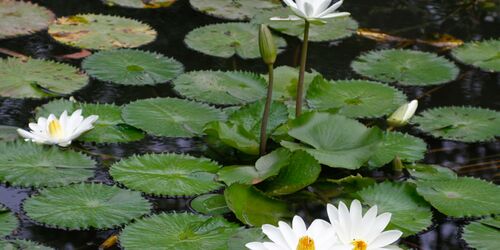 Augsburg's botanical gardens were founded in 1936 as a municipal nursery with a small plot for teaching staff and displaying plants, but today they can take visitors on a veritable tour of the planet's different geographical regions and climate zones. The gardens are home to some 3,100 different species sourced from sandy deserts, sun-baked savannahs, tropical jungles, bare mountainsides and the fields of central Europe.
The large outdoor facilities feature several themed areas, such as a Roman garden from the classical era, a Bavarian farm garden with fruit trees and an apothecary's garden with medicinal plants and herbs. These 20 or so subsections show visitors just how varied the plant world is. The Japanese gardens are a must-see. Designed by the famous landscape architect Yoshikuni Araki, they have been planned down to the last detail. Perfectly balancing the components of stone, water and plants, the site creates an authentic zen-like oasis in the heart of Augsburg. Unsurprisingly, it is considered to be one of the most impressive Japanese gardens in Europe.
Tropical and subtropical plants from hot and dry regions are at home in the botanical gardens' palm houses. This section is a veritable "plant world under glass", where the temperatures are pleasant (or even muggy) all year round so tropical crops and ornamental species can grow and thrive. There are also carnivorous plants, cacti, succulents and other exotic blooms for visitors to marvel at in near-natural settings.
With their motto of "An experience for the four seasons", Augsburg's botanical gardens are a fascinating place that is worth a visit at any time of the year. Along with the palm house and the extensive external grounds with subsections devoted to different purposes, the gardens host a wide range of events, such as themed tours, talks and seminars about specific issues related to gardens, nature, the environment and ecological topics. There are also cultural events such as literary walks and concerts showcasing different styles of music. The annual butterfly show is a very special highlight. It normally runs from January to April and gives visitors a chance to see exotic butterflies from far-off regions in Asia, East Africa, and Central and South America.
News, prices and opening hours are all available here.
The botanical gardens are also a place to go if you'd like something to eat: the Kastaniengarten beer garden and restaurant is located in the middle of the outdoor area. When the weather is fine, you can sit outside and enjoy delicious cakes to go with your coffee, or browse the menu's hearty snacks (at very moderate prices) under the shade of the lofty chestnut trees. During cooler weather, head indoors and enjoy the welcoming atmosphere of the restaurant.
One more thing: Augsburg's zoo is located right opposite the gardens. Over 1,200 animals call it their home, so why not pay them a visit if you're in the area?
Getting here: It only takes 20 minutes to walk from Augsburg's Haunstetterstrasse station to the botanical gardens. When you leave the station, head south along Haunstetter Strasse. After approx. 300 m, cross the street and go left at the traffic light. You are now on Frischstrasse. Stay on it for 500 m. A section of Augsburg's municipal woodland ("Augsburger Stadtwald") appears on the right. The botanical gardens are located in it. Enter the park at Professor-Steichbacher-Strasse. After 600 m, go left at Dr.-Ziegenspeck-Weg and follow it for 250 m. The entrance to the gardens is on the left.
Arrival
Botanischer Garten Augsburg (Augsburg botanical garden)
Dr.-Ziegenspeck-Weg 10
86161 Augsburg
Next station
Augsburg-Haunstetterstraße
Our tip: Please make sure to check your train connection and the expected capacity before you start your journey.
More destinations
A royal lifestyle in the heart of northern Bavaria: Coburg in Upper Franconia is the right place... There are more than 1,000 caves in Franconian Switzerland. The most well-known and most accessible... The largest stalactite in Germany. You certainly won't want for things to see in the Maximilian... On this bike tour you will get high up. You cycle through fields, meadows, past small farms, along... Hike along the ridges above the Retztal valley from the pilgrimage town of Retzbach to... Cast aside your shoes and socks and treat your senses to a walk across flagstones and spruce cones... There is a long tradition of mining in the Allgäu. And for this reason an entire museum village... Kulmbach is home to the Bavarian Brewery Museum. This 3,000 square metre complex is a place where... If you would like to have a look round the city away from the usual sights, we recommend taking the... Travel back to a past that is long gone. A visit to the royal palace and adjoining Hofgarten...
Share article

Email Copy link
Your bookmarks