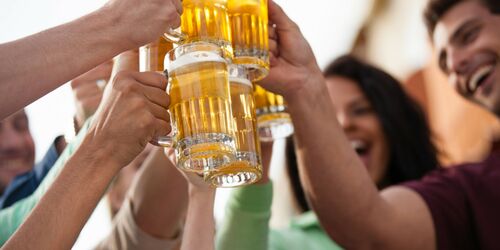 Upper Franconia has introduced an experience that unites beer and education in perfect harmony. At Maisel's Brewery Museum in Bayreuth, you can go on a tour with a brewer's drayman. Siggi the drayman will recount the best stories about beer and the town's history and introduce you to the most picturesque spots in town.
News and opening hours are available here.
Arrival
Maisel's Brewery Museum in Bayreuth
Kulmbacher Straße 40
95445 Bayreuth
Next station
Bayreuth Hbf (main station)
Our tip: Please make sure to check your train connection and the expected capacity before you start your journey.
More destinations
The "Haus am Strom" (house on the current) is dedicated to the flora and fauna that you find around... Bamberg smoked beer ("Rauchbier") is made using smoked malt, which gives it its characteristic... Go on a voyage of discovery through the historic town of Amberg - the former capital of the Upper... For traditionalists: master butcher and chef Norbert Wittmann founded the Weißwurst-Akademie... A "four beers" tour in Bamberg: If beer is more your thing than walking, you should take a trip to... This hike will take you around multiple Franconian breweries, where you will also get to know the... "Nothelfer" (emergency helper) beer is brewed under the gaze of the "Basilica of the Fourteen Holy... A visit to Bavaria's third-largest city is like travelling back in time to the Renaissance, largely... Garmisch-Partenkirchen is the perfect place for anyone who wants to rise above it all, but in a... Kulmbach is home to the Bavarian Brewery Museum. This 3,000 square metre complex is a place where...
Share article

Email Copy link
Your bookmarks