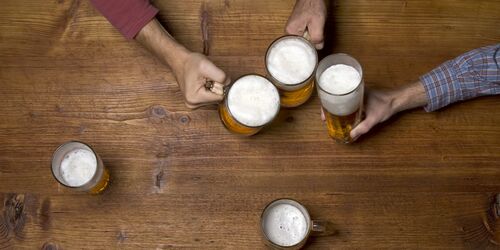 The Bavarian Brewery Museum is situated in the town of Kulmbach, another Upper Franconian beer metropolis. This 3,000 square metre complex is a place where visitors can immerse themselves in the historical art of beer brewing. If you happen to arrive between 30 July and 7 August you can immediately put your beer prowess to the test at the Kulmbach Beer Week. For nine days each summer, the people of Kulmbach put on this annual festival, in celebration of their favourite bevy.
News, prices and opening hours are available here.
Arrival
Kulmbach Brewery Museum
Hofer Straße 20
95326 Kulmbach
Our tip: Please make sure to check your train connection and the expected capacity before you start your journey.
More destinations
Upper Franconia has introduced an experience that unites beer and education in perfect harmony. At... Take a trip to the "Sennerei Lehern" showroom and watch cheese-making experts at work as they... Examples of nice and traditional beer gardens include the one from the Paulaner brewery on... Important fact: When you go for a drink in one of the many beer cellars in Franconia, you don't go... Bamberg smoked beer ("Rauchbier") is made using smoked malt, which gives it its characteristic... Learn from the best! At Confiserie Lauenstein you can look over chocolatiers' shoulders, as they... This hike will take you around multiple Franconian breweries, where you will also get to know the... Garmisch-Partenkirchen is the perfect place for anyone who wants to rise above it all, but in a... Beer tour from Coburg to Rödental: Quench your thirst in the myriad of beer gardens and beer... After a two-and-a-half-hour walk from Pegnitz, you'll come to another stronghold of Franconian...
Share article

Email Copy link