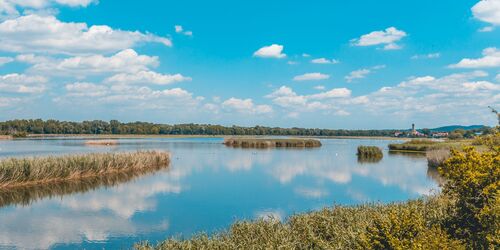 Bruckberg – not to be confused with its Middle Franconian brother and namesake – is situated between the Upper Bavarian town of Moosburg an der Isar and the Lower Bavarian town of Landshut. Starting at Landshut-Süd, you'll pass by Landshut Airport, to the north side of the Echinger Reservoir. You'll have plenty of time to while away the hours and watch the planes in the Ellermühle beer garden. On the return leg, you'll have a final chance to rest your mind and soul, as you walk along the Isar.
Arrival
Ellermühle beer garden
Ellermühle 7C
84034 Landshut
Our tip: Please make sure to check your train connection and the expected capacity before you start your journey.
More destinations
Almost 8 km long, the route takes you through gorgeous forests and climbs to a height of 1,542 m.... Attention fans of winter sports! Whether you love snowboarding, sledding, skiing or cross-country... The "Rennsteig" region around Steinbach am Wald has a suitable route for everyone. The routes are... The 10-kilometre loipe begins right behind Klais station and is dubbed the "sporty" route for good... Art history, stained glass and a gorgeous garden: there's so much to see in Augsburg's cathedral... The Kneipp Museum in Bad Wörishofen takes visitors on a journey of discovery into the life and... The Germanisches Nationalmuseum delivers a vivid presentation of valuable works of art and cultural... With a view of Germany's highest mountain, the Zugspitze, skiers can let off steam on 40 kilometres... Perfect for a day trip by train: stroll through Nymphenburg Palace Park in Munich and explore the... The loipe from Unterammergau to Oberammergau is ideal for the whole family. It has a distance of...
Share article

Email Copy link
Your bookmarks