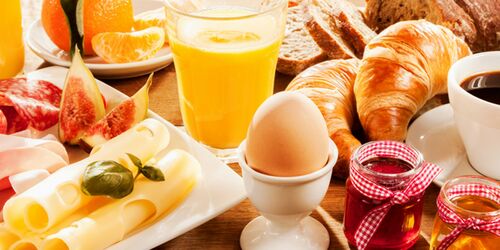 You can enjoy a wonderful Sunday buffet while gliding gently along the Danube. The ride goes from Passau all the way to Engelszell. An hour-long stop gives you the chance to stretch your legs, before returning on board for tasty desserts.
Arrival
Brunch on the Danube
Höllgasse 26
94032 Passau
Next station
Passau Hbf (main station)
Our tip: Please make sure to check your train connection and the expected capacity before you start your journey.
More destinations
"Nothelfer" (emergency helper) beer is brewed under the gaze of the "Basilica of the Fourteen Holy... Upper Franconia has introduced an experience that unites beer and education in perfect harmony. At... After a two-and-a-half-hour walk from Pegnitz, you'll come to another stronghold of Franconian... Go on a voyage of discovery through the historic town of Amberg - the former capital of the Upper... Take a trip to the "Sennerei Lehern" showroom and watch cheese-making experts at work as they... After a around two-and-a-half hours of hiking from the station you will reach the rustic Tutzinger... Garmisch-Partenkirchen is the perfect place for anyone who wants to rise above it all, but in a... At the breakfast cinema in Ansbach you have the chance to enjoy a delicious breakfast every Sunday,... Beer tour from Coburg to Rödental: Quench your thirst in the myriad of beer gardens and beer... Forests and fields, great beer and irresistible food: Franconian Switzerland is home to the...
Share article

Email Copy link
Your bookmarks