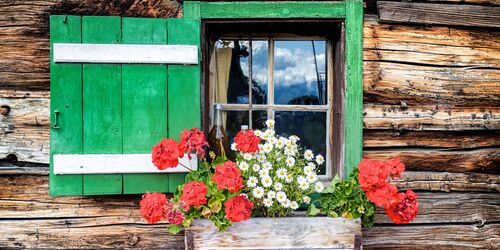 The way to this rustic little cabin is along a path from Linderhof Palace. It takes around an hour and a half, but is easily managed by adults and children alike. Ludwig II, Bavaria's fairytale king, was particularly fond of its location. In fact, he would often climb the mountain and spend the night here. These days, cabin Brunnenkopf provides comfortable accommodation, splendid views of the Ammer mountains – the largest nature reserve in Bavaria – and serves the famous Bavarian dessert "Kaiserschmarrn" (shredded pancakes). Musically inclined guests will also delight in finding guitars and accordions in their rooms, so that evenings in the cabin take on that extra dash of authenticity. Another highlight is the swing with a panoramic view over the valley. Cabin Brunnenkopf is open from mid-May to mid-October.
Arrival
Brunnenkopfhütte

82488 Ettaler Forst
Next station
Oberammergau
Our tip: Please make sure to check your train connection and the expected capacity before you start your journey.
More destinations
A cabin for the heart: Cabin "Tegelberghaus" offers splendid panoramic views and delicious food,... Although the Augustiner Schützengarten beer garden in Munich, which has seating for 3,000 people,... Tall chestnut trees, drinkable beer and fine delicacies: the Hofbräukeller on Wiener Platz has... Here is the heart of Munich. Hearty Bavarian cuisine, cosy surroundings and generously filled beer... The "Barfüßer Hausbrauerei" brewery and beer garden are situated right in the heart of Memmingen.... Examples of nice and traditional beer gardens include the one from the Paulaner brewery on... At the breakfast cinema in Ansbach you have the chance to enjoy a delicious breakfast every Sunday,... Weihenstephan is the oldest brewery in the world still running. On a tour you can dive into the... It doesn't get fresher than this. At the Holzen Abbey in Allmannshofen, breakfast is turned into... Due to its location right by the limes, the little Middle Franconian town of Weißenburg became a...
Share article

Email Copy link
Your bookmarks