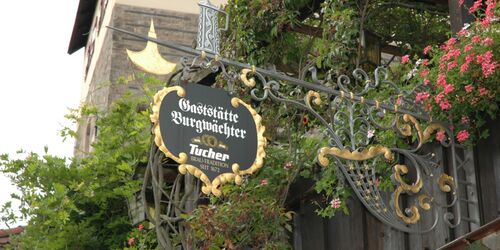 Tourists and locals alike make a beeline for restaurant "Bratwurst Röslein", thanks to its central location and excellent food. And although less well-known, Restaurant Burgwächter is also just as cosy and the food is just as delicious. The highest restaurant in Nuremberg is nestled against the castle walls, serves Franconian specialities and has a terrace sheathed in wild vines.
For further information please click here.
Arrival
Burgwächter
Am Ölberg 10
90403 Nuremberg
Next station
Nürnberg Hbf (Nuremberg main station)
Our tip: Please make sure to check your train connection and the expected capacity before you start your journey.
More destinations
Take part in a murder mystery dinner at the "Wirtshaus Riegele" restaurant in Augsburg, where you... At the "Gruseldinner" (spooky dinner) at Haus Heuport in Regensburg, you may struggle to... Bavarian beer culture and traditional values are nurtured at the Ayinger Brewery. The name, "Café Zafran", in Bamberg is slightly confusing as neither coffee nor cake is served... How about a "Blaue Zipfel" (Bratwurst)? Or Franconian "Schäufele" (pig's shoulder)? Sampling... For those with a sweet tooth: instead of hearty Bavarian fare, this macaron course is all about... Ever wished that you could beam yourself into a video game? Well then, get yourself down to the... This is where all the threads come together: at the Bamberg Marionette Theatre. Although there is... Scores of different art movements under a single roof. The Lenbachhaus gallery has the world's... Are jeans American? No, sirree, this popular garment has its roots in Upper Franconia.
Share article

Email Copy link
Your bookmarks