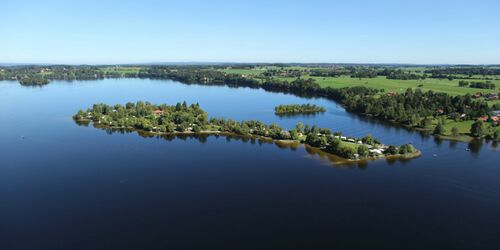 No traffic noise, no caravans. Just water, trees and grass. The island of Buchau on Lake Staffelsee is a paradise for camping aficionados (bring your own tent or rent one on site) and for anyone dreaming of a holiday in the midst of untouched nature. To get there, just catch a "Staffelsee Motorschifffahrt" ferry from Murnau to the island. After that, all you need to do is to hammer your tent pegs into the ground. There is also a restaurant on the island, run by the host, Paul Sedlmaier, who makes sure that no one goes hungry. By the way, Lake Staffelsee is not only one of the warmest lakes in Bavaria but is also supposed to have a healing effect, due to its marshy waters.
News, prices and opening hours are available here.
Arrival
Buchau Island
Johannisstraße 16
82418 Seehausen am Staffelsee
Our tip: Please make sure to check your train connection and the expected capacity before you start your journey.
More destinations
The perfect combination: Find just the right spot at this camp site and you'll be able to see the... Mountain views and (beer) culture: You don't need to bring your own tent when staying at this camp... On a sunny day, why not have a go at a more wobbly style of yoga and swap your yoga mat for a... At Lake Constance in the border triangle, seafaring hearts beat faster: between Bregenz in Austria... Wonderfully refreshing: the beer garden at the Seehof hotel is only three minutes from Herrsching... Next stop: speechless! The tour to the beautiful Guggersee lake in Bavaria, which is classified as... This artificial lake has become an exciting recreation hub. Exploration tour with the Brombachsee. Set sail on the MS Brombachsee trimaran and get to know the... The majestic round trip takes you past the chic properties by the bank, Possenhofen Castle (also... Perhaps taking a trip on the lake on the MS Seehausen will make you want to take a dip?
Share article

Email Copy link
Your bookmarks