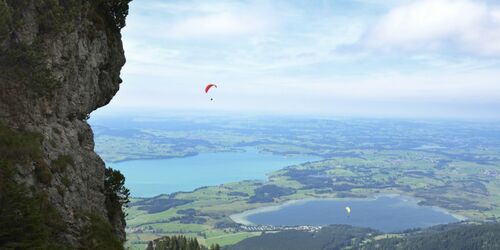 Find just the right spot at this camp site and you'll be able to see the two famous castles, Neuschwanstein and Hohenschwangau. Lake Bannwaldsee is in the ideal spot if you're after a holiday that combines culture with nature and exercise. And by the way, you can choose to sleep in either a "barrel", a caravan or a holiday lodge. Directions: Take bus 73 towards Steingaden or Rottenbuch or the 9651 bus from Füssen station towards Weilheim until you reach the bus stop "Bannwaldsee".
News, prices and opening hours are available here.
Arrival
Camping at Lake Bannwaldsee
Münchner Straße 151
87645 Schwangau
Our tip: Please make sure to check your train connection and the expected capacity before you start your journey.
More destinations
No traffic noise, no caravans. Just water, trees and grass. The island of Buchau on Lake Staffelsee... Mountain views and (beer) culture: You don't need to bring your own tent when staying at this camp... This artificial lake has become an exciting recreation hub. Perhaps taking a trip on the lake on the MS Seehausen will make you want to take a dip? Next stop: speechless! The tour to the beautiful Guggersee lake in Bavaria, which is classified as... Wonderfully refreshing: the beer garden at the Seehof hotel is only three minutes from Herrsching... On a sunny day, why not have a go at a more wobbly style of yoga and swap your yoga mat for a... Exploration tour with the Brombachsee. Set sail on the MS Brombachsee trimaran and get to know the... The majestic round trip takes you past the chic properties by the bank, Possenhofen Castle (also... In the land of fortified churches: South of Iphofen, a special feature awaits you on this bike tour...
Share article

Email Copy link