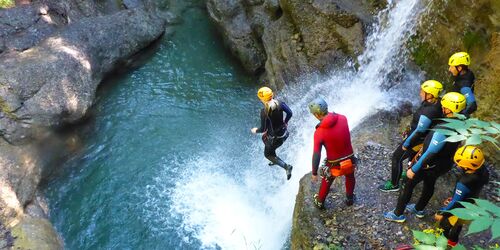 Canyoning is sometimes called "gorging", as you abseil down mountain gorges. As well as the attraction of the sport itself, the natural surroundings are also part of the experience. The moments in which you're sliding down a water gorge and diving into rivers are fascinating and simply unforgettable. Xconcepts organise basic tours, which are perfect for beginners. The descent isn't too steep, certain sections can be bypassed with ease, and the Starzlach Gorge is ideal for a mixture of abseiling, jumping and sliding. Your guide, Alex Lenz, brings all of the equipment to the meeting point at the large "Wanderparkplatz" car park. To get there, you can either take bus 20 from Sonsthofen station (bus stop "Sonthofen-Bahnhof" until "Sonthofen Starzlachweg") or walk (takes around an hour).
For further Information please click here.
Arrival
xconcepts outdoor events
An der Eisenschmelze
87527 Sonthofen
Our tip: Please make sure to check your train connection and the expected capacity before you start your journey.
More destinations
The Bayreuth ice cream paradise "Opera" is just an eight-minute walk from the station. The café... On an expedition to explore the storks. This cycle tour takes you along the Altmühl past many... A bottomless pit, the best-preserved hilltop castle in Franconia and the source of the Altmühl -... Modern glass art, cult toys and an amusement park await you on this bike tour along the Röden -... Go on a fascinating journey through time by bike: from an impact crater to miraculous pilgrimage... This extensive e-bike tour through nature, starting at the Altmühlsee, offers you many a cultural... Fancy a nature trail that connects two metropolises? Then this is the tour for you! Big city... What you always wanted to know about liquorice: Take a walk to explore Bamberg's historical life... Embark on a unique hike along the Spessart Trail. The tour takes you through lush green forests,... From the city on the Three Rivers, the route follows the Danube Cycle Path to Vilshofen, where the...
Share article

Email Copy link