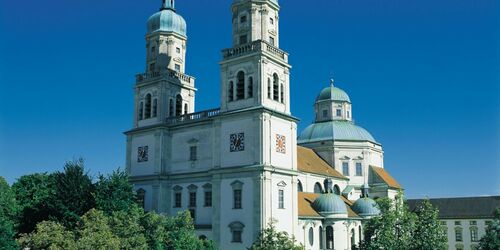 If you thought that the Allgäu was a tranquil place, think again! Kempten is the setting of the popular German novels and TV series "Hauptkommissar Kluftinger", in which Chief Inspector Kluftinger always had his hands full. Why not follow in his footsteps and join a guided tour? On the two-hour tour, you'll be guided through the inner town past film locations, and be read passages from the detective stories. Useful tip: If you book in advance, after the walk you'll be able to enjoy a dish of "Kässpatzen" (a traditional regional cheesy dish) – just like Chief Inspector Kluftinger used to eat. Booking yourself on to the tour is a must!
For further information please click here.
Arrival
Kempten Residence
Residenzplatz 4
87435 Kempten
Next station
Kempten (Allgäu) Hbf (main station)
Our tip: Please make sure to check your train connection and the expected capacity before you start your journey.
More destinations
All seems right with the world when you're sitting in the beer garden of the Staudinger Keller in... Visit the Costume Museum in Holzhausen and find out what a real Bavarian costume ("Tracht") looks... If you want an extraordinary experience, Nuremberg's Neues Museum is a unique architectural setting... From the training support and bespoke running programme through to equipment consultation – the... Scores of different art movements under a single roof. The Lenbachhaus gallery has the world's... At "indoor Sport Fürth" leisure centre, visitors can either try out new sports or play the more... The thermal baths in Treuchtlingen have a special treat in store. The "Altmühltherme" baths are... Two thirds of the 2011 film "The Three Musketeers" was filmed in Bavaria. One of the biggest and... Go on a yoga retreat with "bayurvedic" cuisine at Hotel Staudacherhof in Garmisch-Partenkirchen. For heavy hitters: dive into the world of blacksmithing at the Mühlgassn-Schmiede forge in Kissing...
Share article

Email Copy link
Your bookmarks