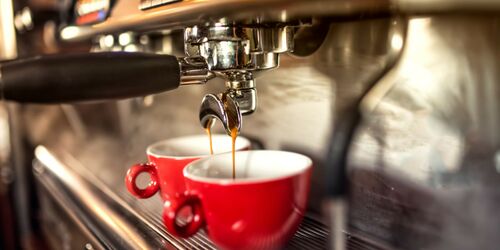 Fancy relaxing in nature or a quick cappuccino with a fifty's flair instead? For the former, we recommend visiting the fountain in the Alter Botanischer Garten (old botanical garden) which is located five minutes away from the station.
You'll need ten more minutes to get to "Café Jasmin", but it's worth it. The set-up and decoration emulate the authentic charm of the 1950s. We especially recommend the selection of freshly squeezed juice and the hot chocolate!
Arrival
Alter Botanischer Garten (old botanical garden)
Sophienstraße 7
80333 Munich
Next station
München Hbf (Munich main station)
Our tip: Please make sure to check your train connection and the expected capacity before you start your journey.
More destinations
Since 2012, Aschaffenburg main station has been graced with the title of "Station of the Year". One of the most attractive major railway stations in Germany. The Cantina Diakonia in Munich employs people who are down on their luck in the job market. Andechs Monastery with its bell tower is situated on the east bank of the Ammersee lake. Beer has... The Bratwurstglöcklein restaurant is located a few steps from Nuremberg's main station. The station in this market town links the past with the present Passau experts agree on one thing: the best Greek restaurant in the city is only five minutes from... "From field to saucepan" – vegan chef Sebastian Copien lives by his motto and delights in sharing... Snakes, lizards, tortoises and poison dart frogs – over 135 animals live at the Reptilienhaus... Swabia is not only famous for its Spätzle (traditional Swabian dish) – the Rote Wurst (red...
Share article

Email Copy link
Your bookmarks