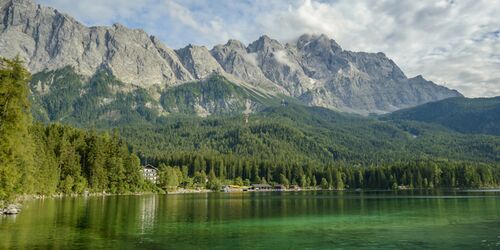 From Kempten to Garmisch: The cross-border Außerfernbahn railway line has connected the Allgäu, Tyrol and the Zugspitze region for more than a hundred years. The railway track winds its way through the foothills of the Alps, past a glorious panoramic mountain landscape of mighty peaks all the way to the Zugspitze. The route passes over the German-Austrian border in two places.
Arrival
Kempten (Allgäu)
Bahnhofplatz 2
87435 Kempten
Next station
Kempten (Allgäu) Hbf (main station)
Our tip: Please make sure to check your train connection and the expected capacity before you start your journey.
More destinations
As you gaze through the window of the train at the Upper Bavarian Alpine foreland and the Zugspitze... The Karwendelbahn cablecar at Mittenwald only needs a few minutes to whisk visitors from an... When it's sunny, people from all nationalities flock to the beer garden at the Chinesischer Turm... Do you prefer building your fairy tale world out of little blocks? Then head on over to Legoland... The Franconian metropolis of Nuremberg has much more to offer than the world-famous... Also for people with a fear of flying: A balloon flight above Bavaria is perfect for anyone who... Traces from the ice age: To the south-west of Starnberg lies the Maisinger Canyon, eroded by the... The artisans' yard is a collection of small workshops that lets visitors see a living tradition of... As you wander through the picturesque gardens at Dachau Castle on a beautiful summer's day, you may... Those who come to Bamberg get to choose: Is the visit for the physical pleasures - first and...
Share article

Email Copy link