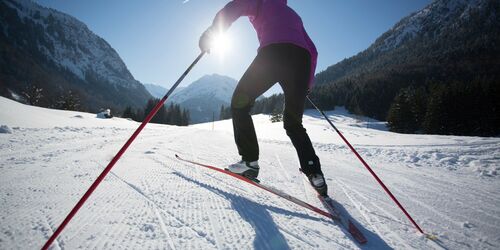 If you're on the hunt for a loipe in Oberstdorf, you don't have to look very far. Just around the corner from the station there are 75 kilometres of prepared, modern loipes– some sunny and sheltered, some challenging, and others idyllic and relaxing. Ten of them can even be prepared with artificial snow, such as the "Rundkurs Oberstdorf" circuit, which starts at the south-west edge of the town. It winds through fields and meadows, past the pilgrim church St. Loretto and on to the "Renksteg". The cross-country ski stadium "Ried" also has floodlights, so you can continue skiing on into the night.
Arrival
Rundkurs Oberstdorf
Weststraße 53B
87561 Oberstdorf
Our tip: Please make sure to check your train connection and the expected capacity before you start your journey.
More destinations
The "Rennsteig" region around Steinbach am Wald has a suitable route for everyone. The routes are... Skiers are spoilt for choice here. The Hündle-Thalkirchdorf resort is the most varied – the... The 10-kilometre loipe begins right behind Klais station and is dubbed the "sporty" route for good... Fun on the slope descents in the Alps: this is possible at the ski resort on the Ochsenkopf in the... Almost 8 km long, the route takes you through gorgeous forests and climbs to a height of 1,542 m.... By train directly to the ski lift. The Tyrolean ski arena Berwang is located directly on the... The small ski resort of Ofterschwang is located in Sonthofen, just a few kilometres from the... The loipe from Unterammergau to Oberammergau is ideal for the whole family. It has a distance of... Lovers of cross-country skiing can enjoy themselves in the shadow of Germany's highest mountain:... If you are looking to enjoy some skiing without the hassle at a fair price, then the charming...
Share article

Email Copy link