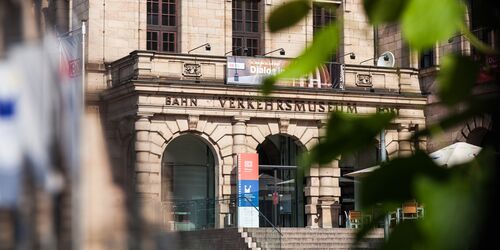 Have you ever asked yourself how people who lived a hundred years ago travelled by train? Or would you like to see what the saloon carriage owned by King Ludwig II of Bavaria looked like? Then why not drop by the Deutsche Bahn Museum in Nuremberg.
Visitors to the oldest railway museum in the world will find themselves walking through 6,800 square metres of railway history, starting at the world's first railway from England and Germany's first steam engine – known as the "Adler" (the eagle) – through to the modern ICE. You can even explore some of these historical vehicles in their original state. Explore, for example, the comforts of Otto von Bismarck's saloon carriage, or be amazed by the velvet furnishings and ornate gold decorations in the carriage of King Ludwig II, and discover the charm of the oldest passenger carriage in Germany.
Your real-life trip to the past continues outside. Just a few feet away from the exhibition, you'll find yourself standing on an old station platform. As you stand amongst authentic vehicles, interlocking systems and signals, you'll experience the atmosphere of an era that has long since been forgotten. The 15,000-square-metre open space reveals how railway infrastructure and technology have developed over the course of the past centuries.
If you love model railways, you'll delight at the Museum's very own gigantic model. Across the 80-square-metre area, you'll see 30 small trains – including ICEs, steam engines and passenger carriages – rattling along miniature tracks with a total length of 500 metres. You can watch them snake their way through tunnels, over mountains and past stations, at a scale of 1:87.
Children will adore the KIBALA play area. The 1,000-square-metre area provides a playful context in which your little ones can become familiar with Deutsche Bahn; they can hear exciting stories, solve puzzles, discover the exhibition in the Liliputbahn, build their own Playmobil railway world and drive a simulator train. Children are actively encouraged to join in and touch the trains!
More information, opening hours and entry prices can be found here.
After your long walk around the museum and its wonderful sites, you're bound to have worked up an appetite. Our tip: Nuremberg is famous for its Bratwursts. Perhaps that's also why it has the biggest Bratwurst restaurant in the world. Bratwurst Röslein is just a 15-minute walk from the museum and serves savoury Franconian specialities.
Directions: The museum is an eight-minute walk from Nuremberg main station. Starting at the station, head west down "Frauentorgraben" and then turn left down "Lessingstraße". You'll reach the museum after 140 metres.
To get to "Bratwurst Röslein", head north from the Museum back up "Lessingstraße", cross over "Frauentorgraben" and head through the walkway past the NSU Memorial and "Kartäusertor". Cross over "Frauentormauer" and into "Kartäusergasse". Keep going down this road until you reach "Kornmarkt", at which point turn right down this road. After 200 metres turn left down "Pfannenschmiedsgasse" and walk until the very end of this road. Turn right down "Karolinenstraße" and a few metres later left again down "Königstraße". Follow this road and go across the bridge over the river Pegnitz. Across the river the street turns into "Plobenhofstraße". Keep going straight ahead. After 170 metres you'll arrive at a street called "Hauptmarkt". Keep following it until you reach "Rathausplatz", which is where you'll find the Bratwurst Röslein restaurant (number 6).
Arrival
DB Museum
Lessingstraße 5
90443 Nuremberg
Next station
Nürnberg Hbf (Nuremberg main station)
Our tip: Please make sure to check your train connection and the expected capacity before you start your journey.
More destinations
Bamberg is famous for its horticulture. Dive into the life and work of gardeners and wine makers... If you're wanting a cinema experience with a cultural twist, you should drop by the Filmmuseum in... In Augsburg's Spitalgasse 15, you can admire the all-familiar puppets such as Jim Knopf or Urmel... A historic museum with modern relevance, the Jewish Museum Augsburg shows the development of Jewish... Located right beside the river Main, the old grain storage facility combines an industrial... The Roman museum was built on the foundations of Kastell Boiotro castle. Films and light... Scores of different art movements under a single roof. The Lenbachhaus gallery has the world's... At the Opern- und Konzertakademie (opera and concert academy) at Schloss Henfenfeld castle near... Find out about long-lost crafts and technology: it's like taking a trip with Jules Verne. The little town situated on the Upper Main river is the wicker capital of Germany. If you would...
Share article

Email Copy link
Your bookmarks