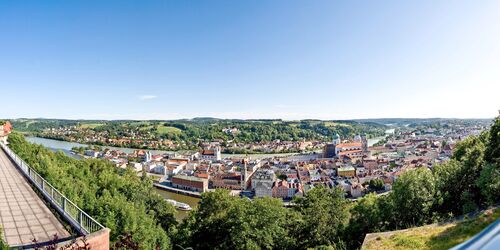 With its lush nature and magnificent views, Passau Land is one of the most popular hiking regions in Germany. Start directly at the Passau train station in the direction of St. Stephen's Cathedral, the prominent landmark of the city: To do so, turn left into Ludwigstraße via Bahnhofstraße in the direction of the city center. Then turn right along Grabengasse before turning right into Carlonegasse: From here at the latest, the two domes of the cathedral can be seen, a total walk of just under 15 minutes. The popular Donausteig tour then officially starts at the cathedral. With a length of 6.8 kilometers, the tour is also ideal for casual hikers.
Relaxed round tour with panoramic views and culture
After a short tour of the city where the three rivers Inn, Danube and Ilz meet, the trail leads you through the picturesque old town: past the magnificent architecture of the New Episcopal Residence and the town hall, which attracts visitors daily to the town hall square with its famous carillon. After crossing the Danube, the Ludwigssteig leads you to a viewing platform where you can enjoy a unique view of the three-river city of Passau. Extend the fantastic view and stop at the Oberhaus inn. Afterwards they go strengthened, past the impressive Veste Oberhaus in a right curve down to the castle ruin Hals and then on the northern Ilzufer back to the city and let the impressions of their hike relaxed on the lakeshore review. After a short breather, it's back to the train station.
Translated with www.DeepL.com/Translator (free version)
Arrival
The "Donausteig" walk
Domplatz 1
94032 Passau
Next station
Passau Hbf (main station)
Our tip: Please make sure to check your train connection and the expected capacity before you start your journey.
More destinations
After a around two-and-a-half hours of hiking from the station you will reach the rustic Tutzinger... "What you wish to kindle in others must burn within yourself." This is the motto of the meditation... The Franconian metropolis of Nuremberg has much more to offer than the world-famous... The Umadum Ferris wheel offers young and old a breathtaking view of the Isar metropolis and the... It doesn't get fresher than this. At the Holzen Abbey in Allmannshofen, breakfast is turned into... The most beautiful viewpoints of Lake Constance await you! This circular trail leads from Lindau... Up to the most northerly lookout point in Bavaria: the Thüringer Warte tower near Ludwigsstadt is... Slow speed ahead! Take a ride in a Zeppelin balloon and you'll get more than just a sightseeing... Back in 1150, this castle was home to the Count of Loon and Rieneck. But these days, you'll mainly... The city's botanical gardens take you on a special kind of trip around the world, to the flora of...
Share article

Email Copy link
Your bookmarks