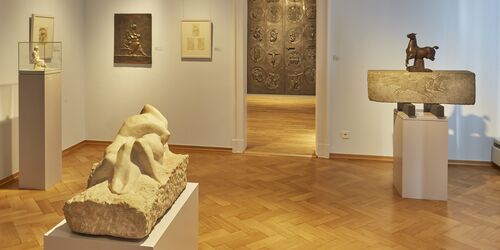 Edwin Scharff (1887-1955) is considered to be one of Germany's most important sculptors from the first half of the 20th century. Born and raised in Neu-Ulm, Scharff left his hometown to study painting in Munich. Though he started his career as a painter, he soon began devoting more time to sculpture. He also taught art, holding a professorship at Berlin's University of the Arts. A classicising visual style is the hallmark of his work, but from the middle of the 20th century on, other tendencies began to appear in his pieces. Abstract and Cubist elements are particularly strong.
The Edwin Scharff Museum in Neu-Ulm has some 1,500 m2 of floorspace to showcase many of the artist's creatonis, along with other visual works and documents. The permanent display about Edwin Scharff is complemented by a range of selected works by other leading sculptors, graphic artists and painters of the era, such as Ernst Barlach, Käthe Kollwitz and Wilhelm Lehmbruck. The building also houses a permanent exhibition of about 50 pieces by one of Scharff's contemporaries, Ernst Geitlinger (1895 – 1972). Geitlinger is seen as one of Germany's most important modernist and abstract painters. The museum also organises temporary exhibitions to go with its permanent collections.
It wows visitors with its state-of-the-art equipment: all of the exhibition rooms feature media stations showing videos of interviews with Edwin Scharff, and viewers can simply use the touchscreen displays to see the next item of information.
And there's more. Along with fascinating insights into modern art, the museum gives visitors an opportunity to take a look at different aspects of scientific knowledge and think about everyday mysteries at the children's museum, located right next door. With about 500 m2 of floorspace, it features a host of interactive features that let children explore different topics in a way that suits them. Don't touch? That doesn't apply here! There is a new exhibition every year, and the contents are designed for children aged 5-12. The exhibitions look at all life from all kinds of different angles, approaching the topics from a kid-friendly viewpoint and adding all kinds of exciting experiments that are guaranteed to make learning fun.
News, prices and opening hours are all available on the website of the Edwin Scharff Museum.
How about getting something to eat after leaving the museum and before catching the train home? The Barfüsser Hausbrauerei is the perfect place to finish your day in Neu-Ulm. You can try out the local take on pizza called Brauerfladen, home-made Swabian "super-ravioli" or Maultaschen, or perhaps an irresistable steak. There are special kids' meals like mini-schnitzel with chips, Swabian-style noodles in sauce, or frankfurter sausages. The Edwin Scharff Museum is just an 11-minute walk from the restaurant, located at Paulstrasse 4.
Getting here: It takes 7 minutes to walk from Neu-Ulm's station to the museum. Cross Julius-Rohm-Platz and then walk along Ludwigstrasse until you reach Friedenstrasse on your left after 180 m. Go down Friedenstrasse for 170 m and turn right at Petrusplatz. The museum is located on your left.
Arrival
Edwin Scharff Museum
Petrusplatz 4
89231 Neu-Ulm
Our tip: Please make sure to check your train connection and the expected capacity before you start your journey.
More destinations
Although the Regensburg snuff factory has not produced any snuff since 1998, it still smells... The castle museum's large collection of paintings shows the lasting impression that Murnau and its... There is a very special type of hunting museum right on Mühldorf town square. It is called... How about a tour along the old railway line through the idyllic Schambach Valley? This bike tour... A royal lifestyle in the heart of northern Bavaria: Coburg in Upper Franconia is the right place... Go on a voyage of discovery through the historic town of Amberg - the former capital of the Upper... The town of Kochel built a museum in honour of the famous Expressionist painter Franz Marc. With an... A trip to the Franconian Open Air Museum is like a journey back in time. 700 years of Franconian... A free-floating X made of steel in the rock: this is the AlpspiX viewing platform directly above... The Himalayas are in Bavaria: that's the name of the 15-metre-high course for experienced climbers...
Share article

Email Copy link