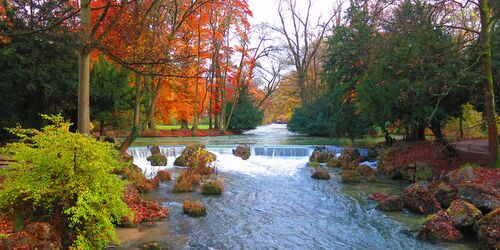 The Isar river winds through Munich and is a symbol of the city. That being said, the Eisbach river in the Englischer Garten is even more exciting. There is a standing wave located right by the exit onto Prinzregentenstraße. You can find surfers here at all hours of the day – both in the summer and winter. Tip: buy yourself an ice cream or a coffee from the Fräulein Grüneis kiosk and watch the surfers.
The park is always open and you can enter free of charge.
Arrival
Eisbachwelle (Eisbach wave)
Prinzregentenstraße 22
80538 Munich
Next station
München Hbf (Munich main station)
Our tip: Please make sure to check your train connection and the expected capacity before you start your journey.
More destinations
Upper Franconia has introduced an experience that unites beer and education in perfect harmony. At... Just follow the red signposts. That's all you have to do if you're venturing off along the... Walking through the old town of Rothenburg ob der Tauber is like travelling back in time. Even... Cast aside your shoes and socks and treat your senses to a walk across flagstones and spruce cones... It doesn't get fresher than this. At the Holzen Abbey in Allmannshofen, breakfast is turned into... The island town of Lindau owes its reputation as Bavaria's riviera to its blend of Art Nouveau... A wonderful group excursion to Vorra. Perfect for a little break in a large group: the... Attention culture lovers and connoisseurs! This city walk takes you past the architectural and... There is a long tradition of mining in the Allgäu. And for this reason an entire museum village... Insider's tip for art enthusiasts: Villa Stuck was built by Franz von Stuck and is a successful...
Share article

Email Copy link
Your bookmarks