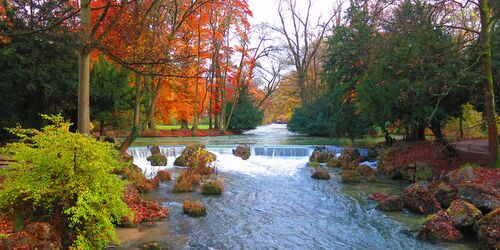 The Isar river winds through Munich and is a symbol of the city. That being said, the Eisbach river in the Englischer Garten is even more exciting. There is a standing wave located right by the exit onto Prinzregentenstraße. You can find surfers here at all hours of the day – both in the summer and winter. Tip: buy yourself an ice cream or a coffee from the Fräulein Grüneis kiosk and watch the surfers.
The park is always open and you can enter free of charge.
Arrival
Eisbachwelle (Eisbach wave)
Prinzregentenstraße 22
80538 Munich
Next station
München Hbf (Munich main station)
Our tip: Please make sure to check your train connection and the expected capacity before you start your journey.
More destinations
Enjoy Franconian nature and lifestyle. The Altmühltal Panorama Trail spoils you on your hike with... Bertolt Brecht allegedly said that "the nicest thing about Augsburg is the train to Munich." Of... The Himalayas are in Bavaria: that's the name of the 15-metre-high course for experienced climbers... During the Würzburg Residence Race in 2015, a record was set before the race had even begun. For... If you want to experience a pilgrimage route while only taking a short hike, you should set out... The Burghotel in Rothenburg ob der Tauber is nestled right up against the city walls. Take a stroll... "Nothelfer" (emergency helper) beer is brewed under the gaze of the "Basilica of the Fourteen Holy... Although the Regensburg snuff factory has not produced any snuff since 1998, it still smells... Those who come to Bamberg get to choose: Is the visit for the physical pleasures - first and... In Fürstenfeldbruck the trees also provide cool shade during exercise: the forest exercise trail...
Share article

Email Copy link