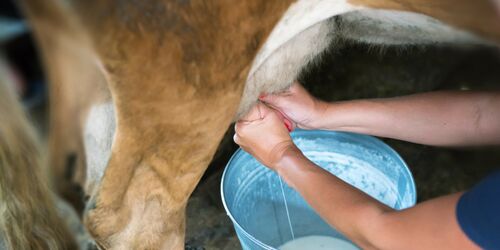 The Eichenmüller family make sure that your visit to the farm in Erlangen is an adventure: after all, your children will be in good hands under the care of Heidi Eichenmüller, who is qualified to teach people about farming. During a tour of the cowsheds, you and your children will learn up close where milk comes from. You can even try your hand at milking. You can reach the Lern- und Erlebnishof Eichenmüller (Eichenmüller learning and adventure farm) on foot in about ten minutes from the S-Bahn stop Erlangen-Elterdorf.
Arrival
Erlebnishof Eichenmüller adventure farm (Erlangen)
Regnitzweg 4g
91058 Erlangen
Our tip: Please make sure to check your train connection and the expected capacity before you start your journey.
More destinations
Pitch in at the "Der kleine Bauernhof" farm – here is where all your "Little House on the... You may be awoken by the cockerel, but you won't find any cows or horses here. Hit the hay for the night – just like Heidi. There are cows in the field and an adorable donkey... The edge of the Alps was solidly under Roman control. The Villa Rustica was discovered in the... Also for people with a fear of flying: A balloon flight above Bavaria is perfect for anyone who... By train into nature to Wolfsee lake, lookout tower and gypsum quarry. In the Steigerwald Nature... Learn from the best! At Confiserie Lauenstein you can look over chocolatiers' shoulders, as they... Back in 1150, this castle was home to the Count of Loon and Rieneck. But these days, you'll mainly... Bamberg smoked beer ("Rauchbier") is made using smoked malt, which gives it its characteristic... Up to the most northerly lookout point in Bavaria: the Thüringer Warte tower near Ludwigsstadt is...
Share article

Email Copy link