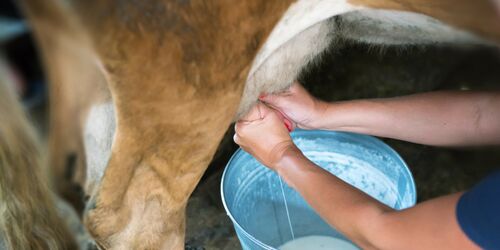 The Eichenmüller family make sure that your visit to the farm in Erlangen is an adventure: after all, your children will be in good hands under the care of Heidi Eichenmüller, who is qualified to teach people about farming. During a tour of the cowsheds, you and your children will learn up close where milk comes from. You can even try your hand at milking. You can reach the Lern- und Erlebnishof Eichenmüller (Eichenmüller learning and adventure farm) on foot in about ten minutes from the S-Bahn stop Erlangen-Elterdorf.
Arrival
Erlebnishof Eichenmüller adventure farm (Erlangen)
Regnitzweg 4g
91058 Erlangen
Our tip: Please make sure to check your train connection and the expected capacity before you start your journey.
More destinations
Pitch in at the "Der kleine Bauernhof" farm – here is where all your "Little House on the... Hit the hay for the night – just like Heidi. There are cows in the field and an adorable donkey... You may be awoken by the cockerel, but you won't find any cows or horses here. From the savannah enclosure to the tropical house to the domestic petting zoo - Augsburg Zoo offers... The Franconian metropolis of Nuremberg has much more to offer than the world-famous... One of the possible starting points along this 18.7-kilometre route is the spa park in Bad Steben... Just a few minutes from Reutte train station, off you go on a wet adventure you won't soon forget. From fields to mountains: the spectacular Höllental gorge leads through dramatic scenery to a... Our insider's tip for railway travellers will lead you through a picturesque landscape. Find out... The artisans' yard is a collection of small workshops that lets visitors see a living tradition of...
Share article

Email Copy link
Your bookmarks