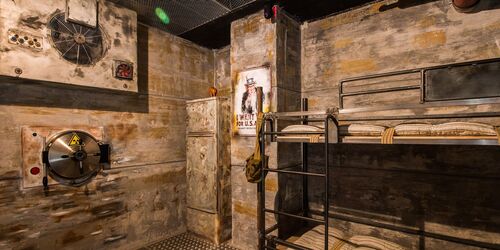 A dark forest on the outskirts of the city. An abandoned orphanage. A curse is in the air. A director who makes innocent children disappear in order to gain his own immortality. All just an escape game? All purely fictitious? Anyone who signs up for one of the six adventures at the Escape Game in Augsburg and begins the interactive party game quickly gets caught up in the maelstrom of creative stories. The challenges and surprises are so real, so creepy, so tricky and so exciting that you completely forget the "normal" world that is waiting for you behind the door. And that's a good thing, because the clock is ticking and you only have 60 minutes to solve the puzzle and find the key you're looking for.
In Live Escape Games, you are locked in a specially designed room with up to five other people. As a team, you have to keep a cool head. This is the only way to cleverly combine hidden clues and objects within an hour to find your way to freedom.
In Augsburg, guests can choose between six different themed rooms: one time, for example, the team is chasing the world villain, another time ghosts scare even the most hardened puzzle fans, and in the next room the last survivors fight against the chaos and anarchy of the doomed world. Behind each door are puzzles that differ in creepiness factor and requirements. Whether as a team-building event, with friends or family - the right adventure full of excitement and thrills awaits everyone here.
Current information, admission prices and opening hours can be found here.
Once you have mastered the challenges and have the redeeming key in your hand, the best place to fortify yourself after all the excitement is Ristorante Massimiliano at Maximilianstraße 30. Here you can reflect once more on the tricky puzzles of the game over pizza and pasta and think about strategies for your next visit. It's only a stone's throw from Barthshof - just walk to Königsplatz, follow Bürgermeister-Fischer-Straße and then turn right into Maximilianstraße.
Directions:
The starting point is Augsburg's main railway station. From there it is only a ten-minute walk to the destination. Leave the main station at the east exit. Cross Viktoriastraße at the traffic lights and walk into Bahnhofsstraße, which leads east away from the station. Follow Bahnhofstraße for 500 metres, then turn right onto Königsplatz. From there, after 44 metres, turn right onto Wallstraße, and after a good 20 metres, turn left onto Barthshof. The destination is on the left after about 60 metres at number 5.
Our extra tip for children
Budding superheroes can save the world from Dr. Mad and his giant laser together with their friends in the Escape Games' "Mission Moonlight". Real fun for everyone aged 10 and over!
Arrival
Escape Game
Barthshof 5
86150 Augsburg
Next station
Augsburg Hbf (main station)
Our tip: Please make sure to check your train connection and the expected capacity before you start your journey.
More destinations
Ever wished that you could beam yourself into a video game? Well then, get yourself down to the... At "indoor Sport Fürth" leisure centre, visitors can either try out new sports or play the more... Faster, quieter and absolutely no exhaust fumes: Once you've had a taste of driving an electric... Fancy dangling off a wall? With an area of 2,000 square metres, E4 in Nuremberg is one of the... Why not try out something new, like football billiards and be a human cue, or play crazy golf in... Go on a yoga retreat with "bayurvedic" cuisine at Hotel Staudacherhof in Garmisch-Partenkirchen. Next stop: a chocolate paradise. This guided tour round Bernried first takes you to a place that... How about a "Blaue Zipfel" (Bratwurst)? Or Franconian "Schäufele" (pig's shoulder)? Sampling... The small cinemas have a very special ambience Find out about long-lost crafts and technology: it's like taking a trip with Jules Verne.
Share article

Email Copy link
Your bookmarks