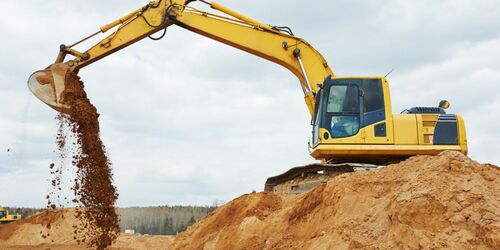 Fun by the bucket load! both little and big kids can have a go at operating monster excavators, wheel loaders and monster trucks under supervision. Play in the mud like a professional! You can get to the excavator course in 15 minutes from Ebing station on foot.
News, prices and opening hours are available here.
Arrival
Excavator course
Im Stock 11
96179 Rattelsdorf
Our tip: Please make sure to check your train connection and the expected capacity before you start your journey.
More destinations
Hit the hay for the night – just like Heidi. There are cows in the field and an adorable donkey... You may be awoken by the cockerel, but you won't find any cows or horses here. Pitch in at the "Der kleine Bauernhof" farm – here is where all your "Little House on the... Learn how to milk animals – the Eichenmüller family make sure that your visit is an adventure. If you want to experience a pilgrimage route while only taking a short hike, you should set out... Although the Regensburg snuff factory has not produced any snuff since 1998, it still smells... The sweeping view across the Altmühl valley from the castle is certain to have saved the lives of... Important fact: When you go for a drink in one of the many beer cellars in Franconia, you don't go... The "Kugler Alm" beer garden has always been a popular trip destination for ramblers and cyclists. The most beautiful viewpoints of Lake Constance await you! This circular trail leads from Lindau...
Share article

Email Copy link
Your bookmarks