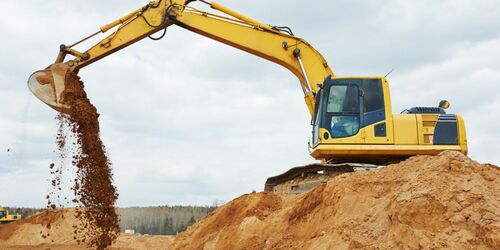 Fun by the bucket load! both little and big kids can have a go at operating monster excavators, wheel loaders and monster trucks under supervision. Play in the mud like a professional! You can get to the excavator course in 15 minutes from Ebing station on foot.
News, prices and opening hours are available here.
Arrival
Excavator course
Im Stock 11
96179 Rattelsdorf
Our tip: Please make sure to check your train connection and the expected capacity before you start your journey.
More destinations
Learn how to milk animals – the Eichenmüller family make sure that your visit is an adventure. Hit the hay for the night – just like Heidi. There are cows in the field and an adorable donkey... You may be awoken by the cockerel, but you won't find any cows or horses here. Pitch in at the "Der kleine Bauernhof" farm – here is where all your "Little House on the... You can enjoy a wonderful Sunday buffet while gliding gently along the Danube, starting in Passau. An exciting place for all ages: The Bavaria Filmstadt film studios in Grünwald, right next to... At the breakfast cinema in Ansbach you have the chance to enjoy a delicious breakfast every Sunday,... If you're looking for a guided tour that is in no way boring, you should book a night-time tour... The Burghotel in Rothenburg ob der Tauber is nestled right up against the city walls. Take a stroll... In the "Skatepark Holzkirchen" you can show off your new tricks under the open sky.
Share article

Email Copy link
Your bookmarks