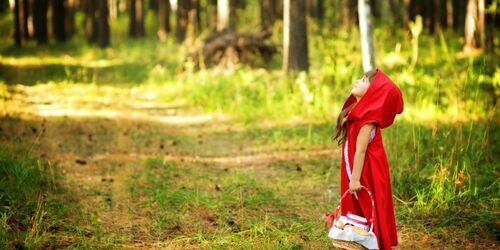 There's more than Little Red Riding Hood, Snow White and Cinderella to be found under the tall trees: lots of playing and climbing facilities, a fairy tale train and fast rides make visiting the Märchenwald (fairy tale forest) in Wolfratshausen an adventure. And if you're not afraid of heights you can even celebrate your birthday at the enchanted tree houses in the middle of the park.
News and opening hours are available here.
Arrival
Märchenwald (fairy tale forest)
Kräuterstraße 39
82515 Wolfratshausen
Next station
Wolfratshausen
Our tip: Please make sure to check your train connection and the expected capacity before you start your journey.
More destinations
In Fürstenfeldbruck the trees also provide cool shade during exercise: the forest exercise trail... The idyllic region of Gablingen is located around ten kilometres north-west of Augsburg. You can... Cabin "Brunnenkopf" has everything you need to relax and unwind: a picturesque backdrop and... You can stroll through shops just ten minutes away from the station. The Bayreuth public swimming... "Nothelfer" (emergency helper) beer is brewed under the gaze of the "Basilica of the Fourteen Holy... The Untreusee lake in the Upper Franconian town of Hof offers exciting action for the whole family... Just follow the red signposts. That's all you have to do if you're venturing off along the... Although the Regensburg snuff factory has not produced any snuff since 1998, it still smells... Although the Augustiner Schützengarten beer garden in Munich, which has seating for 3,000 people,... Where there are mountains, there is also water. This tour is richly blessed with both. Not far from...
Share article

Email Copy link