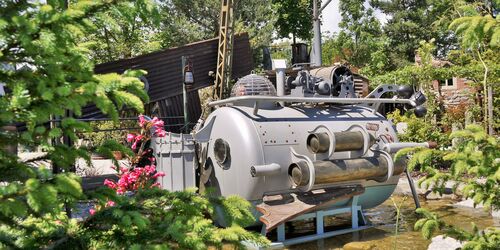 The outside of the Flederwisch adventure grounds might not give much away, but once you cross the threshold, you're in a world of wonders. It is the home of traditional crafts from long ago, such as printing, glassblowing and marbling. It also gives young visitors a chance to learn about technical discoveries and processes in a playful, entertaining way. Transmission technology, steam engines, hot-bulb engines and even submarines – there's so much here. The guided tours are specially designed to entertain and inform children, and the museum also lets them try out different crafts as well, such as pottery, papermaking, panning for gold – and even printing dollars. But it's not just kids who are captivated by their trip to Flederwisch: grown-ups love the time-travelling feeling when they see Bavaria's largest steam engine, and they also love relaxing in the museum's charming garden.
The items on sale at the extra-special gift shop are unique presents for friends and family at home, and the site's steampunk atmosphere is even evident in the decor of the café. If you have a taste for food "just like granny used to make", then it's the right place for you. The beer garden sells coffee, cakes and small snacks along with a range of alcoholic beverages. When you get your order, relax and take in the view of the garden and surroundings.
News, prices and opening hours are all available here.
Getting here: Flederwisch is just 7 minutes' walk from Furth im Wald station. Leave the station building and walk west along Bahnhofstrasse for 130 m, heading towards Freudensprungstrasse. Keep to the right to stay on Bahnhofstrasse as the street turns slightly. After 100 m, the street changes its name to Am Lagerplatz. After 150 m, turn right and keep walking for about 100 until you reach Flederwisch Museum on the left-hand side.
Arrival
Erlebniswelt Flederwisch
Am Lagerplatz 5
93437 Furth im Wald
Next station
Furth im Wald
Our tip: Please make sure to check your train connection and the expected capacity before you start your journey.
More destinations
The little Upper Bavarian community of Eichenau was famous in Europe for its excellent mint for a... The Air Museum in Engelsburg castle in Amberg features air that you can hear, see and touch, spread... Are jeans American? No, sirree, this popular garment has its roots in Upper Franconia. Lift some weight off your shoulders: Relax in an open-air, salt-water floating pool, right in the... Scores of different art movements under a single roof. The Lenbachhaus gallery has the world's... In the town on the southern edge of the Thuringian Forest, children's eyes sparkle: there is much... This is where all the threads come together: at the Bamberg Marionette Theatre. Although there is... A historic museum with modern relevance, the Jewish Museum Augsburg shows the development of Jewish... Located right beside the river Main, the old grain storage facility combines an industrial... Do you want a riddle? As tricky, creepy and creative as possible? Then this could be a good fit:...
Share article

Email Copy link
Your bookmarks