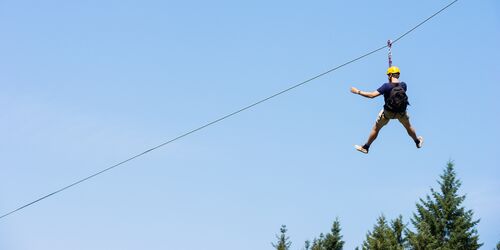 Humans have been preoccupied with the notion of flying for centuries. But you can inch a bit closer to this dream of freedom with a ride on Bavaria's "Flying Fox" zip line. Buckled up and strapped in tightly, you hang from a zip wire high above the ground and then whoosh through the air from A to B. The harness around your waist hooks you onto the zip line. It's an exciting experience for anyone who thinks bungee jumping is a bit daring, but who still wants a bit of an adrenaline rush. In Garmisch-Partenkirchen, you can enjoy the spectacular view over the town, the Olympic ski jump and the breathtaking Alpine panorama, whilst you speed through the air down into the valley at a speed of up to 70 km/h. To get there, you can either walk along the river Partnach from the station (two kilometres), or take bus number 1 or 2 towards Klinikum Garmisch-Partenkirchen (get off at stop "Skistadion" or "Kainzenbad"). In Munich, you fly across the Olympic Stadium (U-Bahn stop: "Olympiazentrum"), which you probably know about from concerts and sports events. But prepare to experience it from a whole new perspective, as you soar across on a zip wire, 35 metres above the ground. The moment that requires the most nerve is when you launch yourself off at the start. However, we're sure that you won't be dithering around for long.
Arrival
Flying Fox Garmisch-Partenkirchen
Karl-und Martin-Neuner-Platz / Olympiastadion Garmisch-Partenkirchen
82467 Garmisch-Partenkirchen
Next station
Garmisch-Partenkirchen
Our tip: Please make sure to check your train connection and the expected capacity before you start your journey.
More destinations
At "Schloss Elmau" in Upper Bavaria, you can try out different styles of yoga, taught by renowned... Here, your healthy get-away doesn't end after class. Discover Fürth's green oases by train. This tour takes you through idyllic parks and natural river... A view far and wide over the Franconian wine country – enjoy it at the "terroir f" lookout... On a walk through the Kunstareal Munich, we follow in the footsteps of King Ludwig I and explore... For traditionalists: master butcher and chef Norbert Wittmann founded the Weißwurst-Akademie... Do you like the mystery of the forest and the diversity of nature? Then this railway traveller's... An exciting place for all ages: The Bavaria Filmstadt film studios in Grünwald, right next to... In the "Skatepark Holzkirchen" you can show off your new tricks under the open sky. Franconian Switzerland is a paradise for climbing enthusiasts and adventure seekers. The countless...
Share article

Email Copy link
Your bookmarks