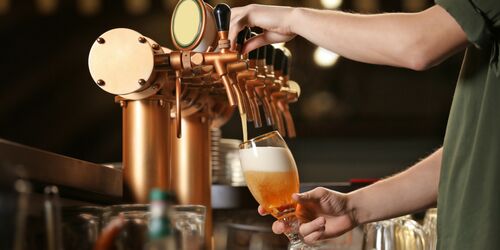 "Nothelfer" (emergency helper) beer is made by Trunk brewery in the Lichtenfels district. It is brewed under the gaze of the "Basilica of the Fourteen Holy Helpers" and was named after the 14 saints who, in turn, gave this impressive pilgrimage church its name. The beer is especially refreshing and enjoyable – accompanied by views over the Main valley – when returning from a short stroll from either Lichtenfels or Bad Staffelstein station (each takes around an hour).
Arrival
Trunk Brewery
Vierzehnheiligen 3
96231 Bad Staffelstein: Fourteen Holy Helpers
Our tip: Please make sure to check your train connection and the expected capacity before you start your journey.
More destinations
The "Haus am Strom" (house on the current) is dedicated to the flora and fauna that you find around... There's nowhere quite like Ingolstadt, where culture and history stretching back over 1,000 years... A "four beers" tour in Bamberg: If beer is more your thing than walking, you should take a trip to... After a around two-and-a-half hours of hiking from the station you will reach the rustic Tutzinger... The August-Schuster-Haus, which is also called Pürschlinghaus, is a cabin situated above Schloss... Important fact: When you go for a drink in one of the many beer cellars in Franconia, you don't go... Take a trip to the "Sennerei Lehern" showroom and watch cheese-making experts at work as they... Every Sunday, visitors are enticed to Brombachsee lake for a three-hour brunch boat ride on the MS... A view far and wide over the Franconian wine country – enjoy it at the "terroir f" lookout... When it's sunny, people from all nationalities flock to the beer garden at the Chinesischer Turm...
Share article

Email Copy link
Your bookmarks