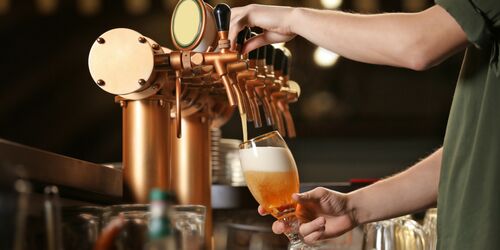 "Nothelfer" (emergency helper) beer is made by Trunk brewery in the Lichtenfels district. It is brewed under the gaze of the "Basilica of the Fourteen Holy Helpers" and was named after the 14 saints who, in turn, gave this impressive pilgrimage church its name. The beer is especially refreshing and enjoyable – accompanied by views over the Main valley – when returning from a short stroll from either Lichtenfels or Bad Staffelstein station (each takes around an hour).
Arrival
Trunk Brewery
Vierzehnheiligen 3
96231 Bad Staffelstein: Fourteen Holy Helpers
Our tip: Please make sure to check your train connection and the expected capacity before you start your journey.
More destinations
You can enjoy a wonderful Sunday buffet while gliding gently along the Danube, starting in Passau. Take a trip to the "Sennerei Lehern" showroom and watch cheese-making experts at work as they... For traditionalists: master butcher and chef Norbert Wittmann founded the Weißwurst-Akademie... Go on a voyage of discovery through the historic town of Amberg - the former capital of the Upper... The August-Schuster-Haus, which is also called Pürschlinghaus, is a cabin situated above Schloss... A wonderful group excursion to Vorra. Perfect for a little break in a large group: the... Is the diversity of Aschaffenburg's excursion destinations due to its Mediterranean flair? Here,... A "four beers" tour in Bamberg: If beer is more your thing than walking, you should take a trip to... Kulmbach is home to the Bavarian Brewery Museum. This 3,000 square metre complex is a place where... Bamberg smoked beer ("Rauchbier") is made using smoked malt, which gives it its characteristic...
Share article

Email Copy link