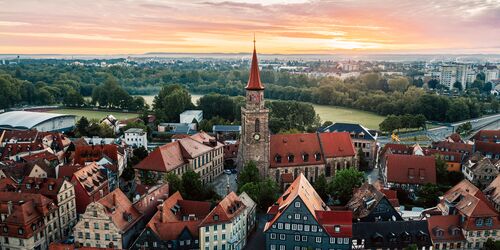 Destination
Explore the sights in Fürth: Your day trip to the charming Franconian beauty
Fürth can not only call itself "the city with the highest density of monuments in Bavaria", it even exudes Italian flair around the town hall square. Would you like to know why? Come with us on a day trip to the charming Franconian city of Fürth and discover its most beautiful corners.
Because Fürth borders directly on Nuremberg, the big city is always seen as its little sister. But the cloverleaf city doesn't have to hide a bit! So it's tempting to get to know the city properly for once, because wonderful places await you here, with which you can create the perfect day trip to Fürth by train.
No matter where you start in Bavaria, you can reach Fürth very easily with the DB Regio Bayern trains: Bayreuthers only need a good hour, Augsburgers or Munichers can be there in two hours. The historic townscape was hardly destroyed in the Second World War, which you can see as soon as you arrive: the station's reception building from 1863 has been preserved to this day. In the old town, too, you can marvel at whole streets of original historic half-timbered houses. Fürth has self-confidently given itself the name "city of monuments" - but rightly so, because with 2,000 monuments, the city can boast the highest density of monuments in Bavaria.
A bit of Italy in the middle of Franconia
Go through the main entrance and turn left onto Maxstraße. Now follow Schwabacher Straße to the right until you stand in front of the town hall, one of Fürth's sights. Well, now you suddenly think you've landed on a market square in Italy? Fürth's town hall, with its round-arched windows and 52-metre-high tower, actually fits more into Tuscany than into the local townscape, because it was modelled on the famous Palazzo Vecchio, Florence's landmark.
The town hall is not only impressive from the outside. Inside, for example, you can inspect the filigree ceiling painting with the cloverleaf, which is the symbol of the city of Fürth and also earned it the name Cloverleaf City. If you happen to be standing at the town hall at midday, have a listen. Because every day at 12:04 p.m. the chimes in the tower ring out - with "Stairway to Heaven", the greatest hit by the rock band Led Zeppelin.
Now follow Königstraße to the left. On the left-hand side, you should definitely treat yourself to a little treat in the "Süßkramladen". This lovingly designed shop will spoil you with homemade tea cakes such as scones. Freshly fortified, you continue straight ahead along Königstraße to the Grüner Markt. It used to be the centre of old Fürth, where people traded, haggled and gymnastics took place. That is why you will discover several sculptures of gymnastic artists on the market square and of course also notice the Gauklerbrunnen (Jugglers' Fountain), which was designed in 2004 and is also one of the top sights in Fürth.
Panoramic view over Fürth
On your day trip to Fürth, head north-east via the market square to the church square. Here you will find the town church of St. Michael, from whose tower you can enjoy a wonderful panoramic view of the town. Today, the church is the only building in Fürth to have survived the 30 Years' War. It was built around 1100 and since then the people of Fürth have celebrated their beloved Michaeliskirchweih, colloquially known as "Färdder Kärwa", in September and October.
Get a whiff of royal air, please!
Before you head back to the station after seeing Fürth's sights, be sure to stroll along the famous Gustavstraße. It was named after the Swedish king Gustav Adolf, who is said to have spent the night here in 1632 in the "Grüner Baum" inn (number 34). It is not only the centre of Fürth's pub scene, but also a real eye-catcher because of the completely different house facades. How about a nightcap and snack in the former Königsherberge?
Inspired by so many beautiful impressions, your path now takes you via Kohlenmarkt and Schwabacherstrasse to Maxstrasse, where you turn left. Follow it for 300 metres until you reach Bahnhofsplatz and then take the train back home in comfort.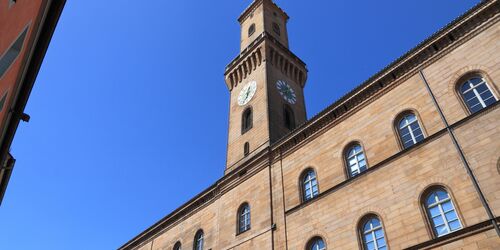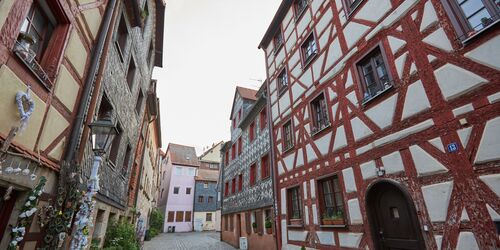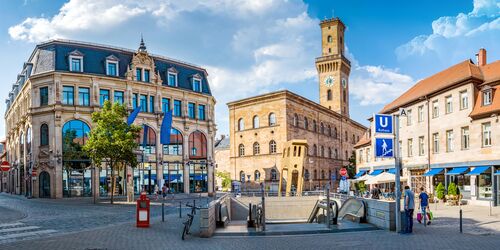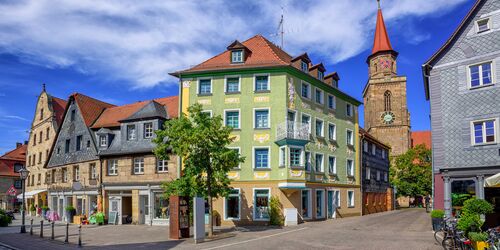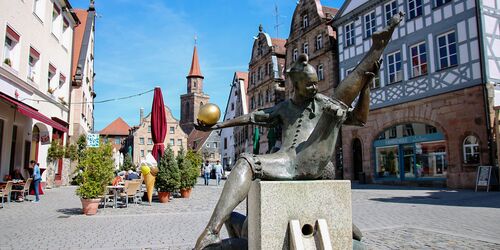 Arrival
City Hall Fürth
Königstraße 86
90762 Fürth
Next station
Fürth (Bayern) Hbf (main station)
Our tip: Please make sure to check your train connection and the expected capacity before you start your journey.
More destinations
A leaning tower, the supposed tomb of Dracula and a bulging picnic basket await you on this magical... Plassenburg castle is nearly 900 years old and was once the centre of power of the House of... Get on your bike and off you go to beer, baroque and Levi Strauss. On this e-bike tour, you can... If you're looking for a guided tour that is in no way boring, you should book a night-time tour... The largest stalactite in Germany. You certainly won't want for things to see in the Maximilian... Garmisch-Partenkirchen is the perfect place for anyone who wants to rise above it all, but in a... A hike with cultural enjoyment - a sculpture park and colourful half-timbered houses await you on... The edge of the Alps was solidly under Roman control. The Villa Rustica was discovered in the... The island town of Lindau owes its reputation as Bavaria's riviera to its blend of Art Nouveau... There is a very special type of hunting museum right on Mühldorf town square. It is called...
Share article

Email Copy link
Your bookmarks