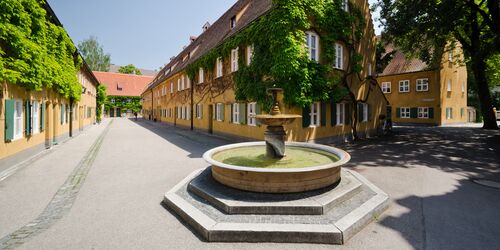 It's not for nothing that the Fuggerei is known as a "town within a town". Not only does it comprise 142 separate flats in 67 houses, it has its own church and range of administrative buildings - all surrounded by a wall with three gateways. The generously sized complex is located in the Jakobervorstadt Süd part of town. Crossing its threshold, you enter a place that upholds a 500-year housing tradition without parallel anywhere in the world. Dating back to the 16th century, the picturesque rows of houses are today home to some 150 occupants. All of them are Catholic, and all are on low incomes. The basic rent for a flat is EUR 0.88 per year and three prayers every day - an Our Father, a Hail Mary and a prayer for the spiritual wellbeing of the Fugger dynasty. This last element was particularly important to the founder, Jakob Fugger: a member of the famous family of merchants, he built the homes for destitute townspeople in 1521 in memory of his deceased brothers, Georg and Ulrich.
Flats number 13 and 14 in Mittlere Gasse house the modern Fugger Museum, where visitors can learn more about the Fugger dynasty as well as the key facts about the Fuggerei's history and how it has changed over time. The fully furnished "show home" in the complex's last unchanged house vividly illustrates what it was like to live in the Fuggerei in the 18th century. It's interesting to compare this time capsule with a second home that's open to visitors at Ochsengasse 51, just 90 m from the museum. Also fully furnished, the second flat reveals how the Fuggerei's residents live today, as the historic ensemble underwent continuous expansion right up until the 1970s.
News, prices and opening hours are all available here.
The Fuggerei is well worth a visit at any time of the year, and its charms are on full display if you are in Augsburg during fine weather. December is a particularly enchanting time to see the complex thanks to its small but delightful Christmas market.
We can recommend another visit as well, this time to a restaurant: Tafeldecker der Fuggerei in Jakoberstrasse 26. With its friendly, modern interior, it serves up local specialities (a mix of Bavarian and Swabian cuisine) at excellent prices.
Getting here:
Take the train to Augsburg and get off at the main station. The Fuggerei is just a 20-minute walk from there. Leave the station by its eastern exit and walk straight on to get to Bahnhofstrasse. Walk along Bahnhofstrasse for 500 m, past the Thormann fountain on your right, until you get to Königsplatz. Cross Königsplatz and go left down Annastrasse. Go right 240 m later at Mettlochgässchen, then go left after 65 m at Philippine-Wesler-Strasse. This brings you to Rathausplatz. Cross this square diagonally and go right at Am Perlachberg. The street changes its name to Barfüsserstrasse at a small square called Metzgerplatz. Walk down Barfüsserstrasse for another 140 m, when it changes its name again, this time to Jakoberstrasse. The entrance to the Fuggerei is 180 m along Jakoberstrasse, on the right.
Arrival
Fuggerei Augsburg
Jakoberstraße 26
86152 Augsburg
Next station
Augsburg Hbf (main station)
Our tip: Please make sure to check your train connection and the expected capacity before you start your journey.
More destinations
The Petersturm tower is the oldest parish church tower in Munich, and also one of the most popular... The pedestrian zone in Augsburg gives rise to a particularly exciting shopping experience, due to... The Eisbach river in the Englischer Garten offers plenty of excitement. There is a standing wave... A hint of Alsace is just a short train trip away: simply visit Bamberg. The town in northern... The artisans' yard is a collection of small workshops that lets visitors see a living tradition of... The Franconian metropolis of Nuremberg has much more to offer than the world-famous... Residents of the Schwabing area of Munich shop at the Elisabethmarkt market, where you can also... Extraordinary museum hopping on the Main! This walk through the city is perfect for culture lovers.... A royal lifestyle in the heart of northern Bavaria: Coburg in Upper Franconia is the right place... A visit to Bavaria's third-largest city is like travelling back in time to the Renaissance, largely...
Share article

Email Copy link
Your bookmarks