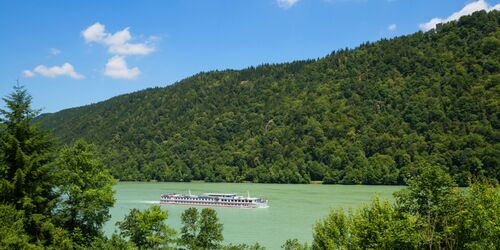 The "Haus am Strom" (house on the current) is dedicated to the flora and fauna that you find around the river Danube, and to the synergy of environment and technology. Visitors of all ages will enjoy learning more about the environment in the discovery centre and at the numerous events that take place.
For nature enthusiasts, arriving at the centre is already the first part of the adventure. The best way to get to the Nature Centre from Passau is to roller-blade along the Danube cycle path. Or you could also take the ferry. The jetty is just a 20-minute walk from the station.
Arrival
Haus am Strom
Am Kraftwerk 4
94107 Untergriesbach
Next station
Passau Hbf (main station)
Our tip: Please make sure to check your train connection and the expected capacity before you start your journey.
More destinations
There's nowhere quite like Ingolstadt, where culture and history stretching back over 1,000 years... You can enjoy a wonderful Sunday buffet while gliding gently along the Danube, starting in Passau. Every Sunday, visitors are enticed to Brombachsee lake for a three-hour brunch boat ride on the MS... Garmisch-Partenkirchen is the perfect place for anyone who wants to rise above it all, but in a... A "four beers" tour in Bamberg: If beer is more your thing than walking, you should take a trip to... Take a trip to the "Sennerei Lehern" showroom and watch cheese-making experts at work as they... Kulmbach is home to the Bavarian Brewery Museum. This 3,000 square metre complex is a place where... It doesn't get fresher than this. At the Holzen Abbey in Allmannshofen, breakfast is turned into... Is the diversity of Aschaffenburg's excursion destinations due to its Mediterranean flair? Here,... After a around two-and-a-half hours of hiking from the station you will reach the rustic Tutzinger...
Share article

Email Copy link