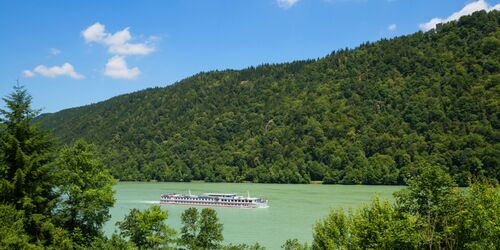 The "Haus am Strom" (house on the current) is dedicated to the flora and fauna that you find around the river Danube, and to the synergy of environment and technology. Visitors of all ages will enjoy learning more about the environment in the discovery centre and at the numerous events that take place.
For nature enthusiasts, arriving at the centre is already the first part of the adventure. The best way to get to the Nature Centre from Passau is to roller-blade along the Danube cycle path. Or you could also take the ferry. The jetty is just a 20-minute walk from the station.
Arrival
Haus am Strom
Am Kraftwerk 4
94107 Untergriesbach
Next station
Passau Hbf (main station)
Our tip: Please make sure to check your train connection and the expected capacity before you start your journey.
More destinations
You can enjoy a wonderful Sunday buffet while gliding gently along the Danube, starting in Passau. "Nothelfer" (emergency helper) beer is brewed under the gaze of the "Basilica of the Fourteen Holy... At the breakfast cinema in Ansbach you have the chance to enjoy a delicious breakfast every Sunday,... Take a trip to the "Sennerei Lehern" showroom and watch cheese-making experts at work as they... The "Kugler Alm" beer garden has always been a popular trip destination for ramblers and cyclists. Important fact: When you go for a drink in one of the many beer cellars in Franconia, you don't go... Weihenstephan is the oldest brewery in the world still running. On a tour you can dive into the... It doesn't get fresher than this. At the Holzen Abbey in Allmannshofen, breakfast is turned into... For traditionalists: master butcher and chef Norbert Wittmann founded the Weißwurst-Akademie... Every Sunday, visitors are enticed to Brombachsee lake for a three-hour brunch boat ride on the MS...
Share article

Email Copy link
Your bookmarks