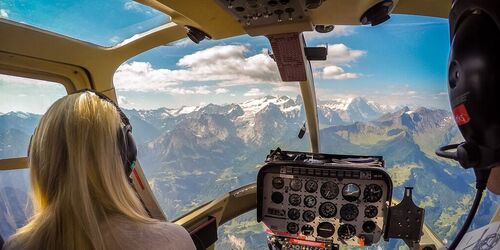 Have you always wanted to be a pilot? At Tannheim airport near Memmingen you can climb aboard the cockpit of a helicopter yourself and fly up to the sky, accompanied by a pilot. Before take-off and after your rigorous introduction, you have to decide on your destination. How about the Allgäu lakes, the Alps, Lake Constance or Neuschwanstein Castle?
News, prices and opening hours are available here.
Arrival
Tannheimer Flieger- und Freizeitzentrum
Flugplatz 1
88459 Tannheim
Next station
Tannheim (Württ)
Our tip: Please make sure to check your train connection and the expected capacity before you start your journey.
More destinations
Discover imposing castles and palaces in the idyllic Sinn river valley. This hike in the north-east... During the Würzburg Residence Race in 2015, a record was set before the race had even begun. For... Just follow the red signposts. That's all you have to do if you're venturing off along the... Pitch in at the "Der kleine Bauernhof" farm – here is where all your "Little House on the... A hike in Iffeldorf around the Caribbean-blue Easter Lakes with a dreamlike mountain panorama - for... Nature, culture and enjoyment await you in the Haßberge Nature Park! Sun-drenched vineyards and... There is a lot to discover when you are 2,244 metres above sea level. From the outside, the... Franconian Switzerland is a paradise for climbing enthusiasts and adventure seekers. The countless... In Fürstenfeldbruck the trees also provide cool shade during exercise: the forest exercise trail... Hit the hay for the night – just like Heidi. There are cows in the field and an adorable donkey...
Share article

Email Copy link
Your bookmarks