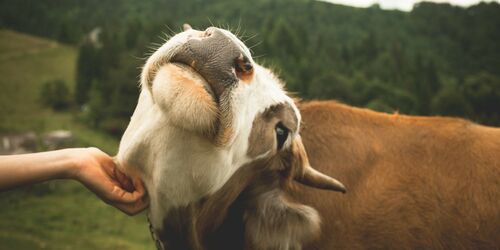 Happy cows in the field and an adorable donkey who'll happily accompany you on walks. The Heuhotel Fischbeck hay hotel in Pegnitztal valley is a farm fantasy come to life. The beautiful half-timbered house can be reached in five to ten minutes on foot from Vorra station. Guests stay in a former cowshed.
Arrival
Heuhotel Fischbeck hay hotel (Vorra)
Hauptstraße 27
91247 Vorra
Next station
Vorra (Pegnitz)
Our tip: Please make sure to check your train connection and the expected capacity before you start your journey.
More destinations
Pitch in at the "Der kleine Bauernhof" farm – here is where all your "Little House on the... You may be awoken by the cockerel, but you won't find any cows or horses here. Learn how to milk animals – the Eichenmüller family make sure that your visit is an adventure. Idea for a day trip with a change of air: the Dillberg. Enjoy the view of the Nuremberg region on... The Petersturm tower is the oldest parish church tower in Munich, and also one of the most popular... As you wander through the picturesque gardens at Dachau Castle on a beautiful summer's day, you may... St. Emmeram Palace in Regensburg is popular with film makers. It's where the German film director... Garmisch-Partenkirchen is the perfect place for anyone who wants to rise above it all, but in a... Cast aside your shoes and socks and treat your senses to a walk across flagstones and spruce cones... The city's botanical gardens take you on a special kind of trip around the world, to the flora of...
Share article

Email Copy link
Your bookmarks