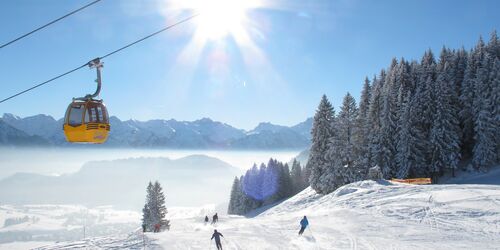 Beneath you, you'll see snow-covered forests and the idyllic Illertal valley. In front of you, you'll behold the rugged peaks of the Allgäu mountains. After your comfortable ride in the Hörnerbahn cable car, meters above this mountain panorama, you can relax on the terrace of the Bolsterlanger Horn mountain station and soak up the sun's warming rays. Oh, and another thing: you can lie in a deck chair for free! There is a bus that goes to Bolsterlang from Sonthofen station and stops right next to the valley station.
Arrival
Hörnerbahn cable car
Hörnerstraße 12-16
87538 Bolsterlang
Our tip: Please make sure to check your train connection and the expected capacity before you start your journey.
More destinations
Climb aboard in Mittenwald, and ten minutes later, you'll emerge into another world – 1,311... If you're looking for a sporty activity for the winter, speeding down over five kilometres of... Skiers are spoilt for choice here. The Hündle-Thalkirchdorf resort is the most varied – the... 7,000 m2 of relaxation: the KissSalis spa was designed to make you feel better than you every... One of the possible starting points along this 18.7-kilometre route is the spa park in Bad Steben... The loipe from Unterammergau to Oberammergau is ideal for the whole family. It has a distance of... As soon as the first snow falls on the mountains, the Allgäu turns into a skier's paradise. Around... By train directly to the ski lift. The Tyrolean ski arena Berwang is located directly on the... The 10-kilometre loipe begins right behind Klais station and is dubbed the "sporty" route for good... On a walk through the Kunstareal Munich, we follow in the footsteps of King Ludwig I and explore...
Share article

Email Copy link