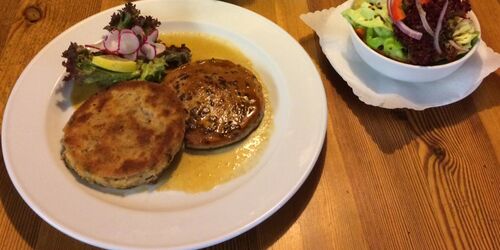 The Milzwurst tastes slightly like its famous relative, the Weißwurst (traditional white Bavarian sausage). The main ingredient in this Lower Bavarian speciality is Weißwurst sausage meat, with the addition of beef spleen, sweetbreads and calf's head meat. Milzwurst looks more like a Wiener schnitzel when on the plate. It is cut into slices about as thick as a finger, coated in breadcrumbs, and then fried. The traditional Seethaler restaurant serves Milzwurst with salad. If you have travelled specially to visit Straubing, then you should definitely take a little tour around the town after refuelling. After all, the restaurant is located in the old town. It was founded in 1218 as "Neustadt" (new town) to the west of the old centre of settlement by Wittelsbach Duke Ludwig the Kelheimer, with the intention of it becoming the centre of the Wittelsbach rule. Even today the magnificent patrician houses all around the lively town centre showcase the prosperity of the tradespeople. In 1812, after a visit by the future royal couple, both parts of the square were renamed in their honour – Ludwigsplatz and Theresienplatz. Still have time for dessert? You should definitely treat yourself to a piece of the famous Agnes Bernauer cake from the Krönner café in Theresienplatz.
Arrival: from Straubing station it's only 750 metres from the Seethaler restaurant. Walk westwards from the Bahnhofsplatz square via Bahnhofsstraße. This street turns into Steinergasse beyond Stadtgraben street; follow it for almost 250 metres, until you turn left onto Theresienplatz. In 50 metres the restaurant should be on the left side of the street.
Arrival
Seethaler restaurant
Theresienplatz 9
94315 Straubing
Our tip: Please make sure to check your train connection and the expected capacity before you start your journey.
More destinations
There is one thing you cannot miss on your sausage discovery tour, and that is the Weißwurst... Swabia is not only famous for its Spätzle (traditional Swabian dish) – the Rote Wurst (red... Andechs Monastery with its bell tower is situated on the east bank of the Ammersee lake. Beer has... People on a night out gather in front of the popular Arkadas Döner kebab shop late into the night. The Bratwurstglöcklein restaurant is located a few steps from Nuremberg's main station. When the men equipped with a basket and brass boiler lift the cover, the aroma of hot sausages... Be warned: these excursion tips may not be to vegetarians' tastes. Because it's all about sausages... The Cantina Diakonia in Munich employs people who are down on their luck in the job market. "From field to saucepan" – vegan chef Sebastian Copien lives by his motto and delights in sharing... "Drei im Weggla" – Nuremberg residents know immediately what this means: three small, crispy...
Share article

Email Copy link
Your bookmarks