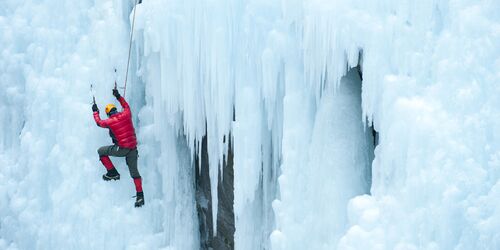 In the Allgäu, the ice climbing season starts the moment all the waterfalls freeze over. Equipped with crampons, ropes and ice picks, climbers claw their way up the wall, as if they were Spiderman in winter mode. Fancy a go? Bergschule Oberstdorf school offers two-day ice climbing courses under the instruction of expert mountain guides, suitable for both experienced climbers and newbies. You can look forward to two fun-filled days of thrilling, and of course, safe climbing. All the ice gear that you need can be hired for free. The meeting point is at the office of Bergschule Oberstdorf, which is a 10-minute walk east of Oberstdorf station.
Arrival
Mountain activities: Bergschule Oberstdorf
Enzenspergerweg 10
87561 Oberstdorf
Our tip: Please make sure to check your train connection and the expected capacity before you start your journey.
More destinations
One of the possible starting points along this 18.7-kilometre route is the spa park in Bad Steben... By train directly to the ski lift. The Tyrolean ski arena Berwang is located directly on the... The skiing area around Hahnenkamm has 12 well-tended pistes for skiing and snowboarding.... 7,000 m2 of relaxation: the KissSalis spa was designed to make you feel better than you every... There are 75 kilometres of prepared, modern loipes very close to Oberstdorf station. The small ski resort of Ofterschwang is located in Sonthofen, just a few kilometres from the... Art history, stained glass and a gorgeous garden: there's so much to see in Augsburg's cathedral... Attention fans of winter sports! Whether you love snowboarding, sledding, skiing or cross-country... A tantalising prospect for cross-country skiers: 12 fantastic trails with a combined length of 180... If you are looking to enjoy some skiing without the hassle at a fair price, then the charming...
Share article

Email Copy link
Your bookmarks