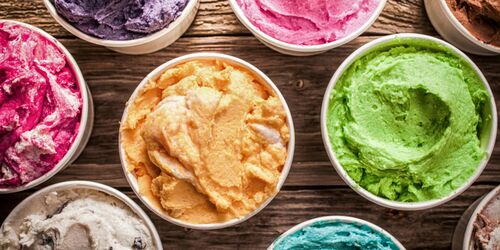 Ice cream café "Dall'Asta" is the perfect place for a refreshing break. After all, it's only a five-minute walk from Ulm main station. However, we recommend that you plan in plenty of time for your visit, as deciding which of the delicious flavours you should pick is not easy.
For further information please click here.
Arrival
Dall'Asta ice cream café
Neue Straße 43
89073 Ulm
Next station
Ulm Hbf (main station)
Our tip: Please make sure to check your train connection and the expected capacity before you start your journey.
More destinations
Ice cream café "Das Eis im Glück", located in the Johannis quarter of Nuremberg, was once a shop... The Bayreuth ice cream paradise "Opera" is just an eight-minute walk from the station. The café... True&12 in Munich always serve twelve different flavours of ice-cream. Sometimes, if you're... It's a rare occasion when you won't see queues outside of Stenz ice cream parlour in Regensburg old... Where tradition meets modernity: Ice cream café "Benito" in Würzburg has been around for 84... Are you interested in history and culture? Then this hike is perfect! Discover colourful... This tour through romantic Franconia fulfils three wishes at once: nature, culture and enjoyment.... In the land of fortified churches: South of Iphofen, a special feature awaits you on this bike tour... A hike through the Grainberg-Kalbenstein-Saupurzel nature reserve on the banks of the Main. Enjoy... Cycling tour around and through the beautiful town of Kempten in the Allgäu, past the steep slopes...
Share article

Email Copy link
Your bookmarks