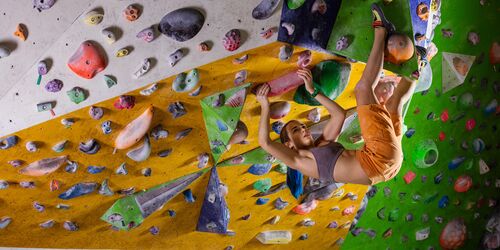 If you think you can simply climb away when you're at indoor climbing wall "E4", then you probably won't get very far. Climbing in the 3,000 square metre hall requires a degree of strategy. As well as strength and agility, you need mental energy and concentration in order to choose the correct grip. At E4 – not far from the Nuremberg "Dutzendteich" lake – there are interesting routes up to 4.5 metres high, large overhangs and fun corner routes. So that you don't get bored, 50 routes of varying levels of difficulty are changed every Thursday. For beginners, there are free introductory courses on Thursdays. Even though the main focus is on bouldering, E4 also has top rope climbing routes and offers different yoga classes, such as a Acroyoga. There is also a bistro, which sells Franconian beer, pizzas fresh from the oven, snacks and cake to refuel you for the next overhang. And the perfect warm-up before you begin climbing is the walk to E4. The wall is approximately half an hour south of Nuremberg main station. However, if you'd rather save your strength for the climbing, just hop on board tram number 7 from the main station to the fifth stop: "Tristanstraße". From there it's just a four-minute walk to E4.
For further information please click here.
Arrival
Bouldering wall E4
Allersberger Straße 185e
90461 Nuremberg
Next station
Nürnberg Hbf (Nuremberg main station)
Our tip: Please make sure to check your train connection and the expected capacity before you start your journey.
More destinations
The Air Museum in Engelsburg castle in Amberg features air that you can hear, see and touch, spread... The little town situated on the Upper Main river is the wicker capital of Germany. If you would... At the Opern- und Konzertakademie (opera and concert academy) at Schloss Henfenfeld castle near... Do you want a riddle? As tricky, creepy and creative as possible? Then this could be a good fit:... Are jeans American? No, sirree, this popular garment has its roots in Upper Franconia. Take part in a murder mystery dinner at the "Wirtshaus Riegele" restaurant in Augsburg, where you... As well as big brand stores, the "Stadtgalerie" in Passau also has a number of shops that you won't... Kempten is the setting of the popular German novels and TV series "Hauptkommissar Kluftinger", in... A historic museum with modern relevance, the Jewish Museum Augsburg shows the development of Jewish... Ever wished that you could beam yourself into a video game? Well then, get yourself down to the...
Share article

Email Copy link
Your bookmarks