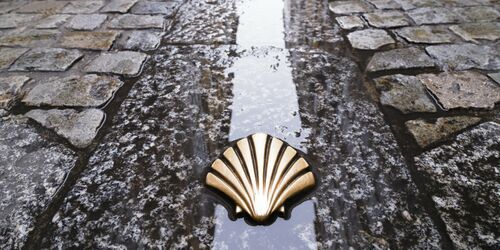 The idyllic region of Gablingen is located around ten kilometres north-west of Augsburg. It's an ideal place for long, leisurely rambles, due to the diverse woodland and hilly landscape just on the edge of "Augsburg Western Woods Nature Park". The river Schmutter flows to the east side. You can walk back to Augsburg along the Jakobsweg trail, which is 18 kilometres long.
Arrival
Augsburg Nature Park
Hauptstraße 36
86456 Gablingen
Next station
Augsburg Hbf (main station)
Our tip: Please make sure to check your train connection and the expected capacity before you start your journey.
More destinations
In the north of Bavaria, the pilgrimage route runs from Hof to Nuremberg. For train travellers... Would you like to explore the pilgrimage route in Bavaria? We recommend short pilgrimage routes... It is said that goblins live in the middle of the forest not far from the southern edge of the town... "Peak happiness" for you and yours. Use the Alpspitzbahn cable car to ascend to 1,575 m, take in... This is a place where everything unites: the traditional and the modern, East and West, and the... A hike in Iffeldorf around the Caribbean-blue Easter Lakes with a dreamlike mountain panorama - for... A hike with cultural enjoyment - a sculpture park and colourful half-timbered houses await you on... From fields to mountains: the spectacular Höllental gorge leads through dramatic scenery to a... Even a simple stroll can be magical: dive into the world of fairy tales on the Schönwerth fairy... "What you wish to kindle in others must burn within yourself." This is the motto of the meditation...
Share article

Email Copy link
Your bookmarks