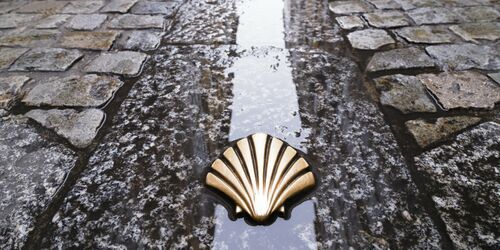 The idyllic region of Gablingen is located around ten kilometres north-west of Augsburg. It's an ideal place for long, leisurely rambles, due to the diverse woodland and hilly landscape just on the edge of "Augsburg Western Woods Nature Park". The river Schmutter flows to the east side. You can walk back to Augsburg along the Jakobsweg trail, which is 18 kilometres long.
Arrival
Augsburg Nature Park
Hauptstraße 36
86456 Gablingen
Next station
Augsburg Hbf (main station)
Our tip: Please make sure to check your train connection and the expected capacity before you start your journey.
More destinations
Would you like to explore the pilgrimage route in Bavaria? We recommend short pilgrimage routes... In the north of Bavaria, the pilgrimage route runs from Hof to Nuremberg. For train travellers... "What you wish to kindle in others must burn within yourself." This is the motto of the meditation... On the way by train to charming half-timbered buildings and impressive wineries. A hike through... By train into nature to Wolfsee lake, lookout tower and gypsum quarry. In the Steigerwald Nature... Hike along the ridges above the Retztal valley from the pilgrimage town of Retzbach to... Nature, culture and enjoyment await you in the Haßberge Nature Park! Sun-drenched vineyards and... This discovery tour offers feasts for the eyes and the palate all in one. Travel by train and... The August-Schuster-Haus, which is also called Pürschlinghaus, is a cabin situated above Schloss... Combine culture and nature on a hike in the Spessart. Along the European Cultural Trail you can...
Share article

Email Copy link
Your bookmarks