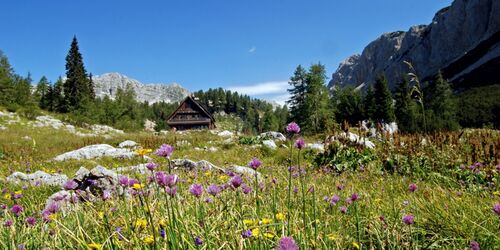 Kösseinehaus cabin has been enticing hikers to the Fichtel mountains since 1903. Once there, you can sunbathe on the terrace or recover from your hike in the shade of old elm trees in the beer garden. From Marktredwitz onwards, a blue and white signposted hiking trail (about ten kilometres) leads up to the cabin.
News, prices and opening hours are available here.
Arrival
Kösseinehaus cabin
Kösseinehaus 1
95632 Wunsiedel
Next station
Marktredwitz
Our tip: Please make sure to check your train connection and the expected capacity before you start your journey.
More destinations
Bruckberg is situated between the Upper Bavarian town of Moosburg an der Isar and the Lower... Although the Regensburg snuff factory has not produced any snuff since 1998, it still smells... This discovery tour offers feasts for the eyes and the palate all in one. Travel by train and... One of the possible starting points along this 18.7-kilometre route is the spa park in Bad Steben... Weihenstephan is the oldest brewery in the world still running. On a tour you can dive into the... Hit the hay for the night – just like Heidi. There are cows in the field and an adorable donkey... You can stroll through shops just ten minutes away from the station. The Bayreuth public swimming... Walking through the old town of Rothenburg ob der Tauber is like travelling back in time. Even... After a two-and-a-half-hour walk from Pegnitz, you'll come to another stronghold of Franconian... For traditionalists: master butcher and chef Norbert Wittmann founded the Weißwurst-Akademie...
Share article

Email Copy link
Your bookmarks