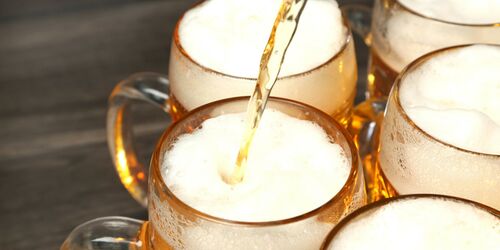 Attention, you are on historic soil: the "Kugler Alm" has always been a popular trip destination for ramblers and cyclists. This was also the case on a Saturday in June 1922. So many guests arrived that the landlord, Franz Xaver Kugler, had to mix his dark beer with lemonade – and thus the Radler (shandy) was born. Even today, this drink is the perfect refreshment after a short stroll from the S-Bahn station to the beer garden.
Arrival
Kugler Alm
Linienstraße 93
82041 Oberhaching
Next station
Furth (bei Deisenhofen)
Our tip: Please make sure to check your train connection and the expected capacity before you start your journey.
More destinations
This hike will take you around multiple Franconian breweries, where you will also get to know the... Bruckberg is situated between the Upper Bavarian town of Moosburg an der Isar and the Lower... Examples of nice and traditional beer gardens include the one from the Paulaner brewery on... Weihenstephan is the oldest brewery in the world still running. On a tour you can dive into the... For big kids: both little and big kids can have a go at operating monster excavators, wheel loaders... Traces from the ice age: To the south-west of Starnberg lies the Maisinger Canyon, eroded by the... You may be awoken by the cockerel, but you won't find any cows or horses here. A view far and wide over the Franconian wine country – enjoy it at the "terroir f" lookout... Would you like to go on an impressive hike through the vineyards of Franconia? Then set off for... A "four beers" tour in Bamberg: If beer is more your thing than walking, you should take a trip to...
Share article

Email Copy link
Your bookmarks