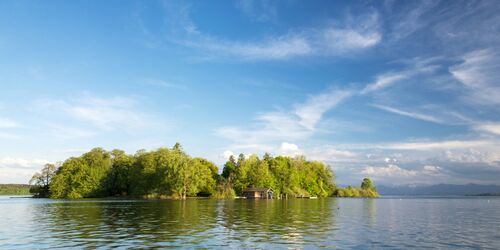 Feldafing has been attracting tourists since the middle of the 19th Century. Its location between Munich and Garmisch with fields sloping down towards Lake Starnberg and views of the "Roseninsel" across the water make it a particularly attractive spot. That's why, in 1927, the community decided to build the Feldafing Lido right next to the lake, complete with an alpine view. These days, the sand that was once strewn along the 100-metre stretch by the water has been removed. Instead, it has been replaced with lush grass beckoning visitors to unwind or to bathe in the lake. The changing rooms and entrance hall, however, are still exactly the same as they were 90 years ago. And they are the reason that the lido has been a protected historical building since 1973, together with 15 other lidos in Bavaria. Although the lido has been around for quite a while, it remains an insider's tip. Whereas other lidos on Lake Starnberg are often over-crowded, in this place, you're guaranteed to find some peace and quiet. As well as swimming, those who like a lot of physical activity can also play beach volleyball. For the toddlers, there's a sandpit and a non-swimmer area with a water slide and a lifeguard. The lido also has a restaurant with three terraces offering a wide selection of pizzas and other specialities, such as regional sausages with pretzels.
For further information please click here.
Directions: From Possenhofen station it is a two-kilometre walk (approx.) to the lido. First head north until you reach the large crossroads and then turn right down Schloßberg Straße. Continue along this road for around 500 metres until it meets Kurt-Stieler-Straße. At this point keep right. After another 500 metres, turn left down Königinstraße. Keep going down this road and after 140 metres you'll reach the lido.
Arrival
Feldafing Lido
Königinstraße 4
82340 Feldafing
Our tip: Please make sure to check your train connection and the expected capacity before you start your journey.
More destinations
Ramsberg on Lake Brombach doesn't just have the largest inland sailing port in Germany but also a... After a delightful stroll through Kochel, you'll arrive at the lake. But what to do next? Do you go... For decades, the small Alpenblick Lido, with its café, pier and boat hire, has been a key... In Munich, you can order your luxury breakfast complete with picnic equipment. No chlorine, no red eyes, just lots of fun! Whether you're windsurfing or kiting, the force of the wind will see you tear across the largest... This riverside lido has something for everyone. Paddle down the Pegnitz in a canoe or kayak. On the Pegnitz you can paddle for miles and miles... If at heart you've always been a cool surfer girl or brawny beach boy, you can let it shine in... An idyllic location on Lake Constance in all weathers. You'll be spoiled for choice when you arrive...
Share article

Email Copy link
Your bookmarks