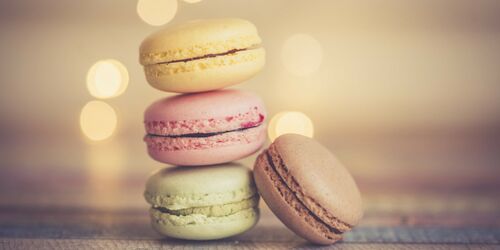 Instead of hearty Bavarian fare, this macaron course is all about elegant French cuisine. If you can make colourful macarons and other tasty confectionery after this course, you will also receive a diploma.
News, prices and the courses are available here.
Arrival
Macaron course
Max-Planck-Straße 8
85716 Unterschleißheim
Next station
Unterschleißheim
Our tip: Please make sure to check your train connection and the expected capacity before you start your journey.
More destinations
Below the town hall, 15 gaol cells show what a 14th-century prison was like. In the Middle Ages,... At "indoor Sport Fürth" leisure centre, visitors can either try out new sports or play the more... The name, "Café Zafran", in Bamberg is slightly confusing as neither coffee nor cake is served... Fancy dangling off a wall? With an area of 2,000 square metres, E4 in Nuremberg is one of the... This is where all the threads come together: at the Bamberg Marionette Theatre. Although there is... The 4-star wellness hotel Antoniushof in Ruhstorf promises big things. The new word on the block is... The Roman museum was built on the foundations of Kastell Boiotro castle. Films and light... Two thirds of the 2011 film "The Three Musketeers" was filmed in Bavaria. One of the biggest and... The Turmtheater theatre in Regensburg doesn't just raise you to lofty cultural heights. The sixth...
Share article

Email Copy link