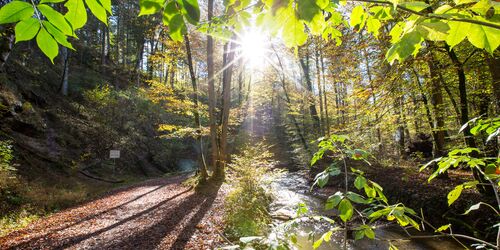 To the south-west of Starnberg lies the Maisinger Canyon, eroded by the last ice age. The gentle 14-kilometre trail leads through mixed forests and the Maisinger Canyon, meanders alongside a stream. If you get hungry, you can regain your strength and warm yourself in the guest house Georg Ludwig. From here, the trail continues across fields to Lake Maising, to the town of Pöcking and then alongside Lake Starnberg and back to the station.
Arrival
Maisinger Canyon
Maisinger-Schlucht-Straße 4
82319 Starnberg
Our tip: Please make sure to check your train connection and the expected capacity before you start your journey.
More destinations
If you want to experience that canyon feeling, you don't have to travel far. Near Garmisch, less... On the way by train to charming half-timbered buildings and impressive wineries. A hike through... Insider tip for architecture and art lovers: The Rosenberg Fortress in Kronach takes you back to... On a walk through the Kunstareal Munich, we follow in the footsteps of King Ludwig I and explore... Idea for a day trip with a change of air: the Dillberg. Enjoy the view of the Nuremberg region on... The perfect pleasure tour in the land of wine! Roam the riverside landscapes along the Main between... The Umadum Ferris wheel offers young and old a breathtaking view of the Isar metropolis and the... If you want to experience a pilgrimage route while only taking a short hike, you should set out... The perfect bike tour for nature lovers and connoisseurs: From Würzburg, the route leads to the... Off on an adventure for the whole family by train! This Nuremberg family hike combines the Toy...
Share article

Email Copy link
Your bookmarks