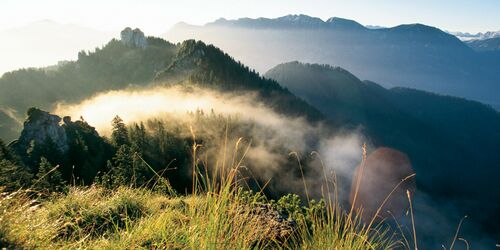 "What you wish to kindle in others must burn within yourself." This is the motto of the meditation hiking trail "Meditationsweg" in the Ammergau Alps. The route stretches between the Pilgrimage Church at Wies ("Wieskirche") in the town of Steingaden to Schloss Linderhof near Ettal. It's a journey for everyone to unwind and look after their wellbeing. If you're looking for a particularly intense experience, you can also take part in a multi-day meditation hike, guided by experienced therapists and pilgrim leaders. Each move, each breath, each fantasy journey and each meditation will guide the traveller a step closer to finding themselves. Those wanting to familiarise themselves with this style of hiking might like to try one of the day hikes that start at the Fatima Chapel and end up at the historical site of Döttenbichl in Oberammergau.
Arrival
Meditation hike in the Ammergau Alps
Wies 12
86989 Steingaden
Next station
Oberammergau
Our tip: Please make sure to check your train connection and the expected capacity before you start your journey.
More destinations
A cabin for the heart: Cabin "Tegelberghaus" offers splendid panoramic views and delicious food,... Camel riding in the Mangfall valley? Absolutely! If you arrive with the S-Bahn, you can even get... For traditionalists: master butcher and chef Norbert Wittmann founded the Weißwurst-Akademie... Bamberg smoked beer ("Rauchbier") is made using smoked malt, which gives it its characteristic... What did panniers, beehives, fish traps and prams once have in common? That's right - they were all... Hotel Orphée in Regensburg has true "star" quality. After all, it has played host to countless... Just like James Bond: Many will recognise the plane from "007 – You Only Live Twice". The... The pedestrian zone in Augsburg gives rise to a particularly exciting shopping experience, due to... Meadows, fields, lakes, rolling hills, shady forest, fairytale rocks and panoramic views down to... On the way by train to charming half-timbered buildings and impressive wineries. A hike through...
Share article

Email Copy link
Your bookmarks