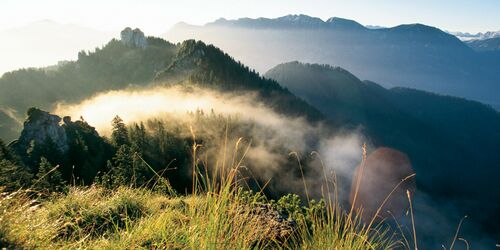 "What you wish to kindle in others must burn within yourself." This is the motto of the meditation hiking trail "Meditationsweg" in the Ammergau Alps. The route stretches between the Pilgrimage Church at Wies ("Wieskirche") in the town of Steingaden to Schloss Linderhof near Ettal. It's a journey for everyone to unwind and look after their wellbeing. If you're looking for a particularly intense experience, you can also take part in a multi-day meditation hike, guided by experienced therapists and pilgrim leaders. Each move, each breath, each fantasy journey and each meditation will guide the traveller a step closer to finding themselves. Those wanting to familiarise themselves with this style of hiking might like to try one of the day hikes that start at the Fatima Chapel and end up at the historical site of Döttenbichl in Oberammergau.
Arrival
Meditation hike in the Ammergau Alps
Wies 12
86989 Steingaden
Next station
Oberammergau
Our tip: Please make sure to check your train connection and the expected capacity before you start your journey.
More destinations
Although the Augustiner Schützengarten beer garden in Munich, which has seating for 3,000 people,... The Himalayas are in Bavaria: that's the name of the 15-metre-high course for experienced climbers... Discover imposing castles and palaces in the idyllic Sinn river valley. This hike in the north-east... On the way by train to charming half-timbered buildings and impressive wineries. A hike through... Training strength and dexterity for free in Munich? No problem on the fitness trails which are... A wonderful group excursion to Vorra. Perfect for a little break in a large group: the... Idea for a day trip with a change of air: the Dillberg. Enjoy the view of the Nuremberg region on... Franconian Switzerland is a paradise for climbing enthusiasts and adventure seekers. The countless... The Porta Praetoria is hidden away between bars, the Danube and Regensburg cathedral. It is one of... There is a corner of central Augsburg that's like a little town of its own, and with a history to...
Share article

Email Copy link
Your bookmarks