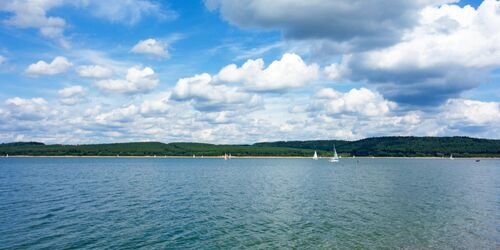 Hop-on Hop-off Tour in the Franconian Lake District
Beach feeling in the south of Central Franconia: the wonderful sandy beaches around the Great Brombach Lake delight bathers young and old on warm sunny days. The reservoir is considered the heart of the Franconian Lake District and is one of the highlights of the region. Board the MS Brombachsee trimaran and enjoy the picturesque view of the hilly forest landscape and the surrounding idyllic villages. With the ship's "hop on hop off" concept, you can interrupt the 90-minute round trip at any time at one of the four landing stages for an exploration tour ashore. Particularly popular destinations are the Krähennest viewing platform on the Pleinfeld shore or the barefoot path in Enderndorf. If you want to delve even deeper into the history of the Franconian Lake District, go ashore in Allmansdorf and pay a visit to the "Lake District - Water for Franconia" information centre. All boats sail daily from 01.04!
Pleasure experience on Lake Brombach
For those who prefer to spend their entire time on the ship, the Flying Brunch is a must. The MS Brombachsee regularly tempts you with three-hour pleasure cruises: the crew will spoil you with delicious dishes from the varied breakfast and lunch buffet, while you can let your gaze wander over the gentle waves of the lake at the same time. Work up an appetite for an excursion on the MS Brombachsee? Then start your Franconian lake adventure at Ramsberg station. Follow Bahnberg-Straße and after 500 metres turn right into Obere Dorfstraße. After 650 metres, the path leads you to the left into Tränkgasse. From there it is only a few steps to the landing stage of the unique trimaran.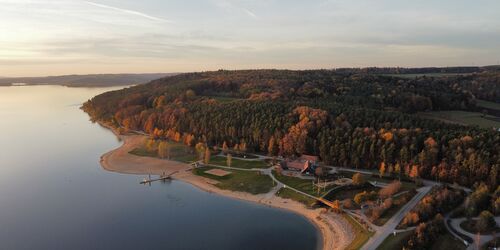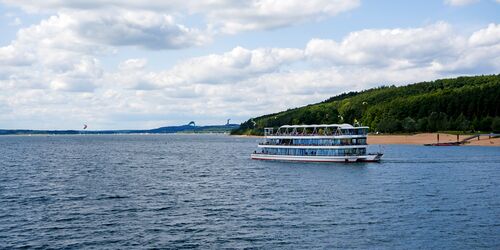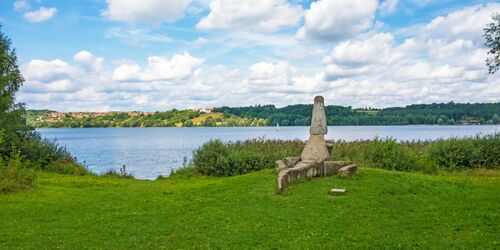 Arrival
Brombachsee
Tränkgasse
91785 Pleinfeld
Our tip: Please make sure to check your train connection and the expected capacity before you start your journey.
More destinations
Perhaps taking a trip on the lake on the MS Seehausen will make you want to take a dip? This artificial lake has become an exciting recreation hub. The majestic round trip takes you past the chic properties by the bank, Possenhofen Castle (also... At Lake Constance in the border triangle, seafaring hearts beat faster: between Bregenz in Austria... Culture meets nature, history walk and wanderlust all in one - that's what this tour through the... On a sunny day, why not have a go at a more wobbly style of yoga and swap your yoga mat for a... Ice cream café "Das Eis im Glück", located in the Johannis quarter of Nuremberg, was once a shop... Are you interested in history and culture? Then this hike is perfect! Discover colourful... Go on a fascinating journey through time by bike: from an impact crater to miraculous pilgrimage... As free as a bird: Book a tandem flight over the Blomberg and just relax while your experienced...
Share article

Email Copy link
Your bookmarks