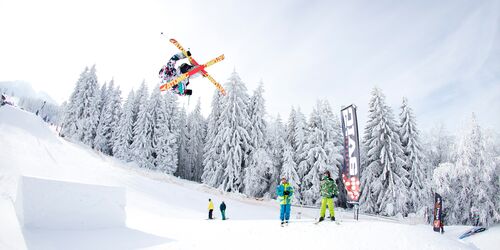 Destination
Nesselwang: Paradise for freestylers, snowboarders and slopestylers in the Allgäu
Attention fans of winter sports! Whether you love snowboarding, sledding, skiing or cross-country skiing, the Nesselwang snowpark and its adjoining ski areas have plenty to offer for all ages and ability levels.
Winter sports and more in Nesselwang at a glance:
Funpark for skiers and snowboarders
Classic skiing and snowboarding
Sledding, especially on the four kilometres of natural sled run on the Alpspitzbahn
Crosscountry skiing
Hiking in snowshoes
Biathlon taster course
Snowcat copilot
Places to rent skis and snowboards in Nesselwang include Skischule Nesselwang and Bergsport Martin.
Nesselwang has almost 100 years of skiing and winter sports history. But it's not just the pistes that will attract visitors to the fresh air of this spa town on the edge of the Allgäu Alps. The snowpark, located directly at the Alpspitzbahn in Nesselwang, offers a wide range of kickers rails and jumps, along with a unique urban feel. That is because Nesselwang is much more than a typical funpark – it is Germany's first street snowpark. All of the stations here are arranged in a specific set-up known as the "Hood". Featuring police stations, graffitied walls and yellow cabs, the urban snowpark brings a piece of New York flair to Nesselwang.
Modern floodlights allow the winter fun to go on long into the night. With 34,000 square metres of snow, the park offers a wide variety of kickers, obstacles and hurdles such as downrails and straight boxes. Snow machines ensure suitable conditions at all times so the park can be used every day throughout the winter season.Regardless of whether you are a novice or experienced snowboarder, everyone will find their favourite place to practice, along with space to chill out and meet fellow winter sports fans.
There is also plenty on offer for younger visitors. The Kidspark features special boxes and kickers where youngsters can get involved and emulate their idols.
But Nesselwang has plenty more to offer winter sports enthusiasts outside the snowpark, including eight kilometres of piste for skiers and snowboarders of all ages and ability levels. If you've always wanted to try biathlon, why not register for a taster course and put your stamina and aim to the test on the trail in Nesselwang? Before you leave, there's one more very special snowy adventure that you simply have to experience. Adults and children alike (minimum age ten years) can climb aboard a snowcat and get a look behind the scenes of winter sports, preparing the trails for the next runs beside an experienced Pistenbully driver.
If you feel the need to take a rest, make sure to pay a visit to Sepp'sStadlalm. This rustic ski lodge offers traditional cuisine and light snacks throughout the day at reasonable prices. Meat lovers should wait until the evening, when the Stadlalm transforms into a restaurant with table service from 6 pm and becomes the perfect place to go for a juicy steak.
Even when the winter season is over, Nesselwang is ideal for an active holiday. Put on your hiking shoes, grab your trekking poles and enjoy the breathtaking views of the Allgäu's alpine foothills. You can even go with a llama! The quickest way to get back down the valley is by sled. Real adrenaline junkies can take the AlpspitzKICK zip line right next to the Alpspitzbahn and whizz down the 1.2-kilometre route hanging from a wire rope. Please note that the zip line is closed until 13 December 2019.
Getting there:
The Alpspitzbahn is about 15 minutes walk from Nesselwang station. After leaving the station at Bahnhofstrasse, head north-west towards Rieflerweg. After reaching Rieflerweg, turn left and walk through the park over the stream until you get to Poststrasse. Turn right and walk 110 metres before turning right onto Lindenstrasse. Walk another 50 metres before turning left onto Von-Lingg-Strasse. Keep going until you reach Hauptstrasse (B309). Turn right and walk another 60 metres before turning left into An der Riese. After 400 metres, turn right into Alpspitzweg where you will find the Alpspitzbahn.
It's just five minutes from the Alpspitzbahn to the Stadlalm. To get there, walk back north-east from the Alpspitzbahn along Alpspitzweg towards the train station, then take a sharp right onto An der Riese and keep going for around 400 metres until you reach Sepp'sStadlalm (An der Riese 40).
Arrival
Nesselwang
Alpspitzweg 5
87484 Nesselwang
Our tip: Please make sure to check your train connection and the expected capacity before you start your journey.
More destinations
With a view of Germany's highest mountain, the Zugspitze, skiers can let off steam on 40 kilometres... By train directly to the ski lift. The Tyrolean ski arena Berwang is located directly on the... Fun on the slope descents in the Alps: this is possible at the ski resort on the Ochsenkopf in the... The small ski resort of Ofterschwang is located in Sonthofen, just a few kilometres from the... Skiers are spoilt for choice here. The Hündle-Thalkirchdorf resort is the most varied – the... If a day of tobogganing without the tedious uphill climb sounds appealing, then you should catch... Lovers of cross-country skiing can enjoy themselves in the shadow of Germany's highest mountain:... The Germanisches Nationalmuseum delivers a vivid presentation of valuable works of art and cultural... At the Obermain Therme thermal bath in Bad Staffelstein, Bavaria's strongest thermal brine... Almost 8 km long, the route takes you through gorgeous forests and climbs to a height of 1,542 m....
Share article

Email Copy link
Your bookmarks