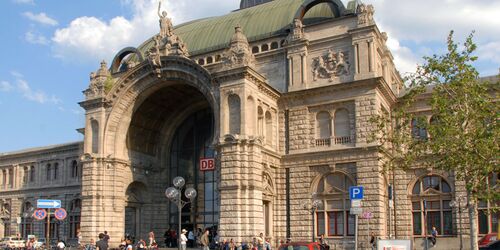 An eye-catcher – both on the inside and outside: Nuremberg's regal main station is situated right in the heart of the city. The shell limestone façade, built in 1900, has been placed under a preservation order. The architectural style of the grand main hall is "Jugendstil" (type of Art Nouveau), which has a ceiling decorated with stucco, and walls adorned with a finely detailed mosaic.
Arrival
Nuremberg main station
Bahnhofsplatz 9-12
90443 Nuremberg
Next station
Nürnberg Hbf (Nuremberg main station)
Our tip: Please make sure to check your train connection and the expected capacity before you start your journey.
More destinations
Since 2012, Aschaffenburg main station has been graced with the title of "Station of the Year". Fancy relaxing in nature or enjoying a cappuccino with a fifty's flair? For the former, we... Swabia is not only famous for its Spätzle (traditional Swabian dish) – the Rote Wurst (red... The Alter Simpl restaurant in Erlangen is right near the station and has a menu that boasts... The Milzwurst (spleen sausage) is most beloved in Lower Bavaria. What makes it so special? Take a... "Drei im Weggla" – Nuremberg residents know immediately what this means: three small, crispy... Snakes, lizards, tortoises and poison dart frogs – over 135 animals live at the Reptilienhaus... Are all farmers in the east of Bavaria gloomy? The name of this sausage speciality sounds... The Bratwurstglöcklein restaurant is located a few steps from Nuremberg's main station. When the men equipped with a basket and brass boiler lift the cover, the aroma of hot sausages...
Share article

Email Copy link
Your bookmarks