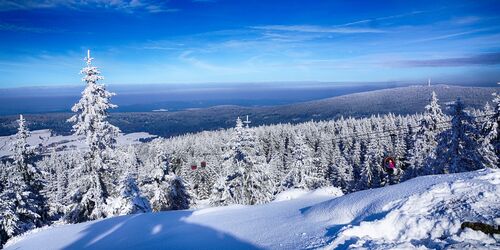 Fun on the slope descents in the Alps: this is possible at the ski resort on the Ochsenkopf in the Fichtel mountains. The two longest descents in northern Bavaria are tempting. And the flat slopes with surface lift mean that even skiing newbies can have go without any fear. Cross-country skiers will find an extensive cross-country network all around the Ochsenkopf mountain. To reach the ski resort we recommended that you take one of the regional buses run by the Nuremberg transport authority (VGN) from Bayreuth station: for example the number 329 bus towards "Fichtelberg", until the stop "Bischofsgrün Schwebebahn Nord".
Arrival
Ochsenkopf
Fröbershammer 27
95493 Bischofsgrün
Next station
Bayreuth Hbf (main station)
Our tip: Please make sure to check your train connection and the expected capacity before you start your journey.
More destinations
Skiers are spoilt for choice here. The Hündle-Thalkirchdorf resort is the most varied – the... By train directly to the ski lift. The Tyrolean ski arena Berwang is located directly on the... The small ski resort of Ofterschwang is located in Sonthofen, just a few kilometres from the... One of the possible starting points along this 18.7-kilometre route is the spa park in Bad Steben... All his life, author, film-maker and painter Lothar-Günther Buchheim collected paintings and... As soon as the first snow falls on the mountains, the Allgäu turns into a skier's paradise. Around... Art history, stained glass and a gorgeous garden: there's so much to see in Augsburg's cathedral... Perfect for a day trip by train: stroll through Nymphenburg Palace Park in Munich and explore the... If a day of tobogganing without the tedious uphill climb sounds appealing, then you should catch... 7,000 m2 of relaxation: the KissSalis spa was designed to make you feel better than you every...
Share article

Email Copy link