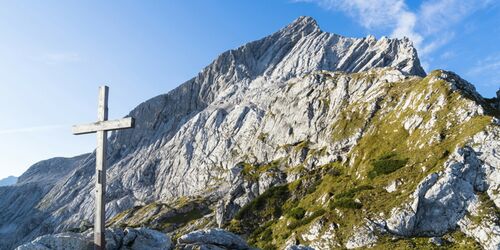 You don't need to be a seasoned mountaineer on a trip to the Osterfelderkopf mountain. On the contrary, this mountain allows even beginners to enjoy the fresh alpine air. Wide paths and secured sections mean there's no need to worry. Even little ones can take part in hiking trips. The easy trail involves going up to the 1638-metre-high Kreuzeck mountain with the Kreuzeckbahn cable car. After a small break at the Hochalm cabin, it's up to the Osterfelderkopf. A hearty snack at the "Restaurant Alpspitz" and the beautiful panorama of the Alpspitze mountain make for a good reward for children and adults after a rigorous hike. You can reach the Osterfelderkopf with the Bayerischen Zugspitzbahn (BZB) railway. Arriving with DB means you receive a 10 percent discount. Holders of a regional day ticket for Bavaria can use it on the BZB up to Hammersbach.
Arrival
Kreuzeckbahn cable car
Am Kreuzeckbahnhof 1
82467 Garmisch-Partenkirchen
Next station
Garmisch-Partenkirchen
Our tip: Please make sure to check your train connection and the expected capacity before you start your journey.
More destinations
The hour-long hike takes you along the Schutzengelweg culture trail all the way up to... Spectacular and blissfully convenient: The "Altmühltalweg" that runs between Pappenheim and... The forest in the Bad Wörishofen wellness park is the perfect place for an athletic day trip. Enjoy Franconian nature and lifestyle. The Altmühltal Panorama Trail spoils you on your hike with... Petting zoo for the kids, wellness for the parents, and the motto: "Happy children – rested... Just follow the red signposts. That's all you have to do if you're venturing off along the... Simply magnificent! The Franconian Mountain Path, with a total length of almost 430 km, stretches... A hike in Iffeldorf around the Caribbean-blue Easter Lakes with a dreamlike mountain panorama - for... Nature, culture and enjoyment await you in the Haßberge Nature Park! Sun-drenched vineyards and... Idea for a day trip with a change of air: the Dillberg. Enjoy the view of the Nuremberg region on...
Share article

Email Copy link
Your bookmarks