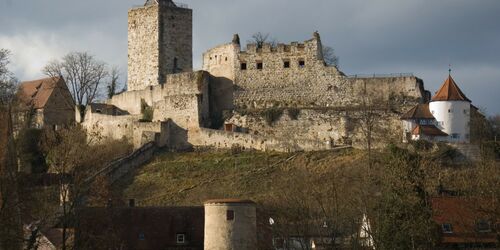 The sweeping view across the Altmühl valley from Pappenheim Castle is certain to have saved the lives of its original occupants on one or two occasions, as you could already spot enemies advancing from a long way away. These days, you can just relax and enjoy the view, take a casual stroll through the Botanical Gardens, visit the Nature and Hunting Museum or just stretch out under the lime trees of the castle tavern.
News, prices and opening hours are available here.
Arrival
Pappenheim Castle
Marktplatz 5
91788 Pappenheim
Our tip: Please make sure to check your train connection and the expected capacity before you start your journey.
More destinations
Insider's tip for art enthusiasts: Villa Stuck was built by Franz von Stuck and is a successful... Even though your intention may be to have a gentle stroll, you'll find that your pace will... Attention culture lovers and connoisseurs! This city walk takes you past the architectural and... A royal lifestyle in the heart of northern Bavaria: Coburg in Upper Franconia is the right place... This miniature castle is almost 500 years old and gives visitors an authentic impression of how the... Go on a voyage of discovery through the historic town of Amberg - the former capital of the Upper... As you wander through the picturesque gardens at Dachau Castle on a beautiful summer's day, you may... Sumptuous flowers: tiny Bernried was chosen as one of Germany's most beautiful villages in 2009. This hike will take you around multiple Franconian breweries, where you will also get to know the... The Tegelberg mountain is situated within the former kingdom of Ludwig II, Bavaria's fairytale...
Share article

Email Copy link
Your bookmarks